WSGS Completes First Update to Online Oil and Gas Map since its Launch in July
The Wyoming State Geological Survey (WSGS) has completed the first update to its online Oil and Gas Map of Wyoming, including revising the map's data and improving its functionality.
The interactive map went live last July to complement the WSGS' traditional and popular paper Oil and Gas Map of Wyoming, first published in 1943. A major objective for launching the online map and automating data processing is to have the ability to make updates more frequently as new information becomes available. WSGS staff made the first round of updates in less than one month, whereas previous map updates took several months and even years to complete. Future updates are expected to become even more streamlined.
The web-based map displays oil and gas fields, their producing reservoirs, horizontal wells, pipelines, oil refineries, gas plants, hydrocarbon products and well production status. Major updates include revisions to all fields following the release of Wyoming Oil and Gas Conservation Commission's 2016 well and production data, as well as to gas plant and oil refinery data.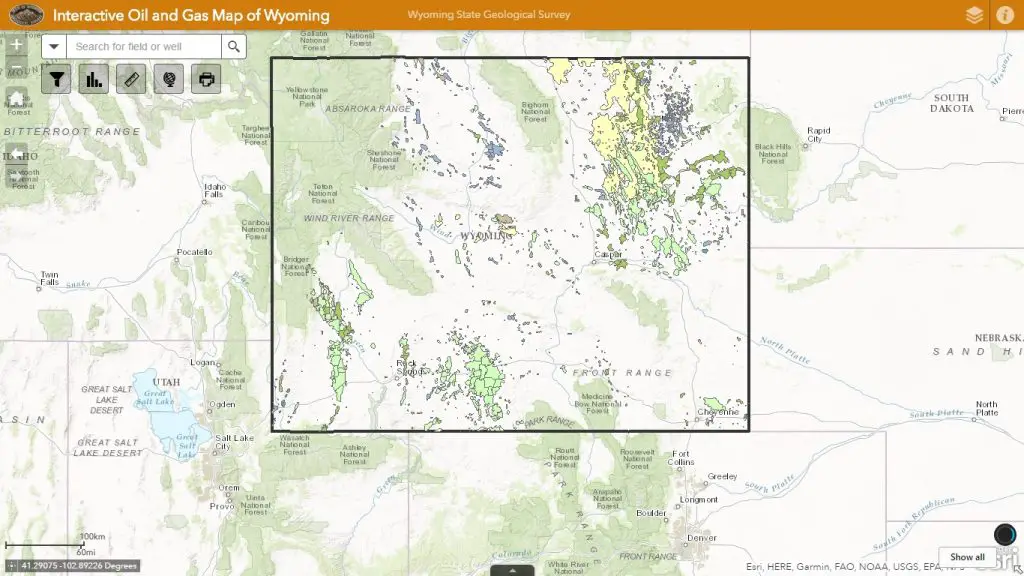 New data incorporated into this map include more than 600 new vertical and horizontal wells. Each of the nearly 1,400 fields were checked, their attributes and field designations updated with the latest well information, and their field boundaries automatically redrawn where necessary.
"This map is unique because it presents more than just the newest well information. It integrates this new information with historical data to produce a more complete picture of each oil and gas field. Better yet, our update process is comprehensive and systematic, leading to a consistent result," says Rachel Toner, WSGS oil and gas geologist and project lead.
Increased functionality was also added to the online map in the form of additional queries and labeling. New queries include gas plants by name, gas plants by status (active or inactive), oil refineries by name, wells by county, and wells by township and range.
The online map will be updated annually unless drilling activity picks up or need arises, in which case, updates can be done more often.
The Oil and Gas Map of Wyoming, both online and paper versions, continues to be one of the WSGS' most popular products. Since its initial launching in July, the interactive oil and gas map was accessed more than 2,700 times. Its printed counterpart, published in August, was downloaded as a free PDF more than 270 times.
Both the online and paper versions have won numerous awards, including top honors in the Poster Competition and Mapping Application Competition at the Wyoming Geospatial Organization (WyGEO) conference, as well as Best Cartography Award in the GIS Map Gallery at the American Association of Petroleum Geologists Pacific and Rocky Mountain Sections joint meeting. The model behind the online map was also featured in the winter 2017 issue of ArcNews, a journal that focuses on geographic information system (GIS) technology.
"This online map provides a summary of the latest and greatest oil and gas data for the state of Wyoming. We've received feedback from users, ranging from private citizens to industry geoscientists to government agencies, that this map is a useful research and information tool. We are happy that we can provide this service to a wide variety of users," says Tom Drean, WSGS Director.
The online map is free to use and can be accessed at: http://www.wsgs.wyo.gov/energy/oil-gas-maps-publications. The WSGS welcomes comments and suggestions on how to make the online map an even more useful tool going forward. Feedback can be provided to WSGS oil and gas geologist, Rachel Toner, at rachel.toner@wyo.gov.
Media Contact:
Christina George
(307) 766-2286 x231