Better Infectious Rickettsioses Prevention in Taiwan with SuperGIS Desktop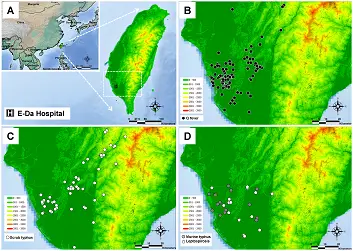 The professional GIS desktop software, SuperGIS Desktop, supports Dr. Chung-Hsu Lai, I-Shou University, Kaohsiung, Taiwan, in the research of human spotted fever group rickettsioses, SFGR, to provide geographical relations of the infectious diseases in disease control and future prevention.
 SFGR is one of rickettsial diseases biogroups, it's found in different geographical environments worldwide. The emerging diseases have been neglected by publics, especially in developing countries like Taiwan. There aren't many researches related to human SFGR and other rickettsioses, such as Q fever, scrub typhus and murine typhus. The geospatial relations of the diseases have been also ignored for a long time.
To better understand the spread of the diseases, Dr. Lai utilizes SuperGIS Desktop for visualizing the spatial distribution of different diseases. With the maps, readers can easily see the infector locations of each disease, and then overlay the terrain layer to realize the relation between distribution and terrains. For example, Q fever, murine typhus, and leptospirosis cases are spread on plains, but scrub typhus are more in mountain areas.
Furthermore, the Doctor applies GIS software to see the difference not only spatial distribution, but also in different times to watch the effects of prevention and control results. For advanced uses, SuperGIS Desktop Extensions, Geospatial Analyst and Geospatial Statistical Analyst can also provide the researcher accurate analysis as research proof.
This is the first research about human SFGR in Taiwan, which also confirms the infection of SFGR on humans. The diseases are currently unluckily rarely reported by clinicians due to neglect and unknown. But with the research, not only clinicians can better know the potential infectious factors, but also the authority can monitor the infectors and enhance prevention work in particular areas. It can assist on more suitable policy making for public health.
Learn more about the case:
http://www.supergeotek.com/Library_2_201406.aspx
The Paper of SFGR research:
http://www.plosone.org/article/info%3Adoi%2F10.1371%2Fjournal.pone.0095810
Like us to get more latest GIS news and applications
https://www.facebook.com/SuperGeoTek
 #  #  #
 About Supergeo
 Supergeo Technologies Inc. is a leading global provider of GIS software and solutions. Since the establishment, Supergeo has been dedicated to providing state-of-the-art geospatial technologies and comprehensive services for customers around the world. It is our vision to help users utilize geospatial technologies to create a better world.
Supergeo software and applications have been spread over the world to be the backbone of the world's mapping and spatial analysis. Supergeo is the professional GIS vendor, providing GIS-related users with complete GIS solutions for desktop, mobile, server, and Internet platforms.
 Marketing Contact:
Sarah Liu
Supergeo Technologies Inc.
5F, No. 71, Sec. 1, Zhouzi St., Taipei, 114, TAIWAN, R.O.C.
TEL:+886-2-2659 1899
Website: http://www.supergeotek.com
Email: sarahliu@supergeotek.com