Ghana: Education Ministry Launches School Mapping Portal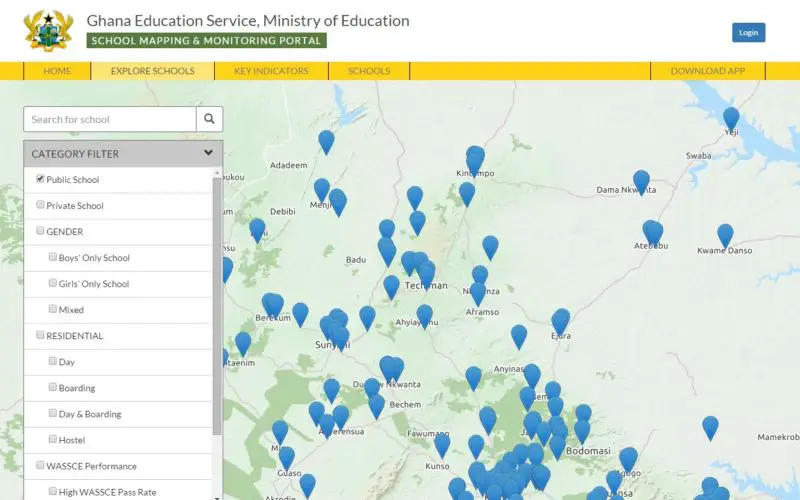 The School Mapping and Monitoring system, a programme under the Secondary Education Improvement Project (SEIP), has been launched under the host name www.ghanaschoolsinfo.org.
Speaking at the launch, the Minister for Education, Prof. Jane Naana Opoku-Agyeman, said citizen feedback options and real time updates through SMS numbers linked to the platform were some of the benefits of the project to the community.
Prof. Opoku-Agyeman said the School Mapping Portal had the potential to significantly improve the management of schools by GES, operating under the Ministry of Education, adding that the program had the potential to be rolled out to institutions at other levels.
Another benefit, she said, was the automatic e-mail notification which would immediately alert concerned officials of any report relevant to any SHS. The e-mail notification would inevitably inform decision making at the Ministry for planning and resource allocation, monitoring information on the SEIP implementation and provide a link with the Education Management Information System (EMIS) and other existing sourcing of Education and socioeconomic data.
The School Mapping project involves the development of a website intended to provide and improve access to information for the public as well as educational planners.
Under the system, Senior High Schools, both public and private, can be identified using a Geographical Information System (GIS) while data on the portal will provide, among others, a detailed profile on various schools including year of establishment and enrolment by programme, class, gender, mixed or single sex.
It also offers information on courses, hostel or dormitory, school facilities, teacher to student ratio, school photos and the number of trained teachers, among others.
The project, which is being implemented in phases, is currently under its first phase– the development of the portal with essential details to locate and profile various Secondary Educational Institutions.
The second phase comprises the installation of a monitoring tool used for data capturing from Senior High Schools while the third phase is the upgrading of the system to monitor activities and support for the verification of reports from schools and contractors.
The fourth phase involves the collection of additional data at schools, using the smart phone application such as submitting up-to-date photos of the school, mapping and creating profiles for newly-created schools, creating monitoring templates and user log-in details for all SHS in the country as a data collection method for regular monitoring.
Complaints lodged on the platform become the responsibility of the Ghana Education Service (GES) Monitoring and Evaluation team who will, in turn, co-ordinate with the complainant, response teams and other agencies to ensure that the problem is rectified.
Source: All Africa