GIS-based System for Optimal Site Selection of Sewage Treatment Plants
Kerala Water Authority (KWA) has come-up with a new tool using Geographical Information System (GIS) for optimal site selection of Sewage Treatment Plants (STP). A GIS is a system designed to capture, store, manipulate, analyze, manage, and present all types of geographical data.
A conventional method of site selection of Sewage Treatment Plant in the planning stage involves collection of topographical, environmental, economic & socio-political data and its analysis, which is time consuming, laborious, and expensive.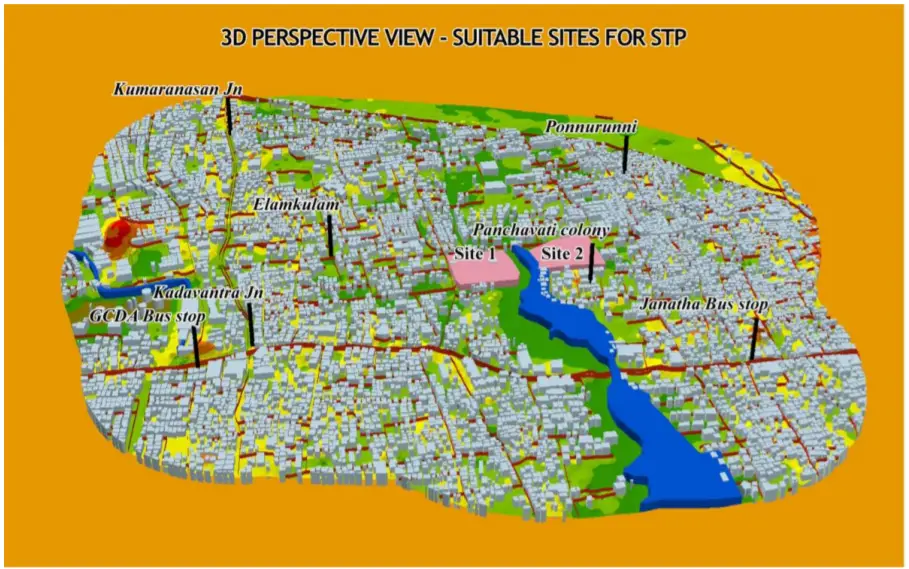 Whereas  a GIS-based spatial analysis for site suitability evaluation followed by multi-criteria analysis for optimal evaluation of alternatives form a very powerful tool that supports complex decision-making processes. Sewage treatment plant site suitability analysis is one such problem that can have the leverage of these tools to achieve a great result for the stakeholders.
The area of interest chosen for the study is Elamkulam, Kochi. Elamkulam is an area in Kadavanthra region in the city of Kochi, state of Kerala, India. There is a sewerage treatment plant at Elamkulam, operated by the Kerala Water Authority (KWA), has a capacity of 4.5 mld . A total of 1,184 connections is connected to the KWA sewerage network.
The aim of this study is to find the most optimal sites for sewage treatment plant by using the GIS-based Multi-criteria Analysis in Elamkulam locality, Kochi, India.
For mapping out the optimal sites for the Sewerage Treatment plant in Elamkulam area of Kochi Corporation, ten individual parameters were taken into consideration. Weighted Overlay is deployed in deriving the optimal site for sewerage treatment plant. All the ten parameters layers (Table 1) have been constructed and combined in the GIS environment.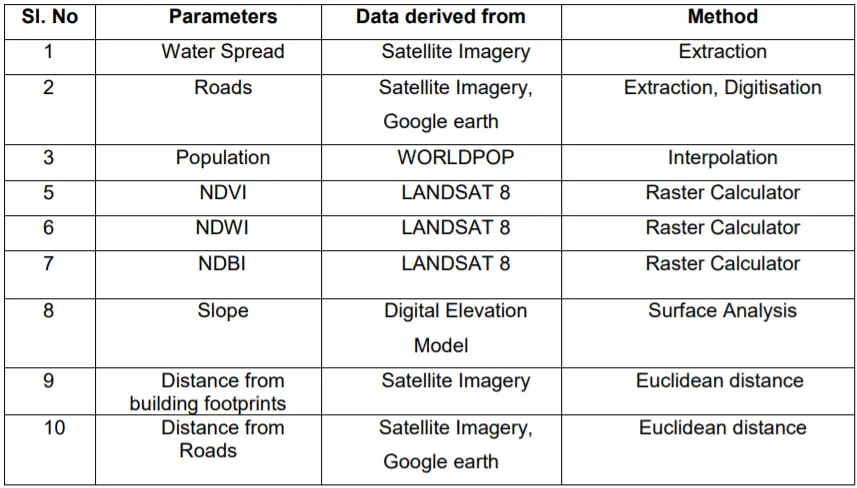 Benefits
Fast – Takes only 6% of time when compared to traditional method.
Less laborious – Needs only 2% of personnel when compared to normal method.
Inexpensive – Incurs only 6% cost when compared to conventional method.
Analysis Based on Latest Data – Uses latest data available in open-source platform.
Alternative Sites – Most appropriate site can be selected by exploring alternative sites.
Better & Faster Decision Making.
Even though field validation is a must, GIS based STP site selection is an innovative tool in the arsenal of planners for creating better sustainable development solutions.
Source – Kerala Water Authority
Also Read –
Kochi Metro Rail Completes LiDAR Survey for Kochi Water Metro