GRACE Mission Comes to an End after 15 years of Successful Operation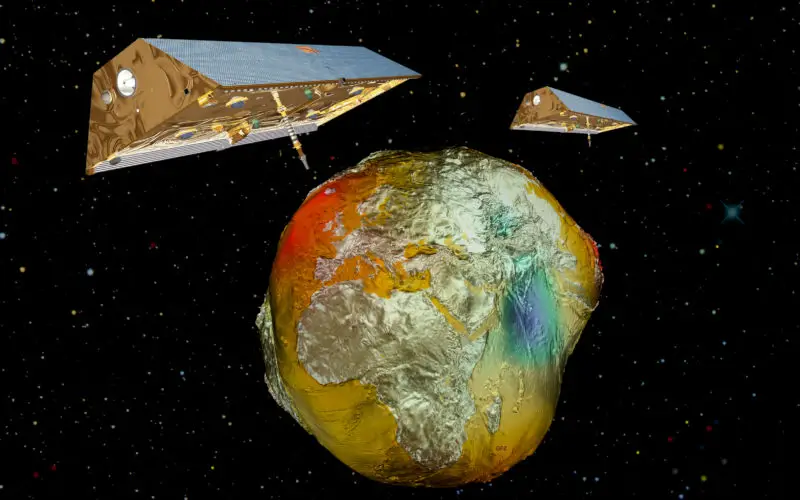 Measuring gravitational changes and precisely documenting climate change
End of the over 15 years German-US scientific mission GRACE designed to accurately measure Earth's gravity field

Since their launch on 17 March 2002 on board a Rockot rocket from the Russian Cosmodrome in Plesetsk, the two twin satellites GRACE-1 and GRACE-2 have been on a narrow 'chase'.

Detailed documentation on the effects of climate change

Focus: Space, Earth observation, Impact of Climate Change, Understanding of the Earth System
October 27, 2017 – After more than 15 years, the German-US Gravity Recovery and Climate Experiment (GRACE) for precise measuring of Earth's gravity field has come to an end. Since its launch from the Russian cosmodrome in Plesetsk on 17 March 2002 on board a Rockot launcher, the twin satellites GRACE-1 and GRACE-2 have been orbiting Earth in close formation flight, precisely recording how Earth's gravity field changes over time. GRACE was a joint mission by NASA's Jet Propulsion Laboratory (Pasadena, California) and the German Aerospace Center (Deutsches Zentrum für Luft- und Raumfahrt; DLR). The scientific analysis was carried out by the Center for Space Research at the University of Texas at Austin and the German Research Centre for Geosciences (Deutsches GeoForschungsZentrum; GFZ) at the Helmholtz Centre in Potsdam.
"The GRACE mission was planned to last five years but has been working very successfully for more than 15 years – three times longer than originally planned. The two GRACE satellites have delivered scientific data that has reshaped our understanding of Earth's geophysical processes. The mission has demonstrated what satellite-supported Earth observation can do for climate research and the observation of climate change," states Pascale Ehrenfreud, Chair of the DLR Executive Board.
"The measurements have shown how water, ice and solid materials on Earth move over time. This data helps us precisely document changes in the ground water, or glacial retreat, for example. Also the latter's influence on the rise in sea level can be recorded thanks to the GRACE measurements," adds Reinhard Hüttl, scientific board member of the GFZ.
Understanding the Earth system
GRACE is one of the few Earth observation missions that measures gravitational changes rather than electromagnetic radiation, such as light or radio waves. "We could, in a sense, 'weigh' how the continents are sinking or rising from one month to another," clarifies Achim Friker, GRACE project leader at the DLR Space Administration in Bonn. This enabled the quantitative determination of numerous effects of climate change – such as glacial melt in Greenland and Antarctica, ground water decline in India and California – and has made an indispensable contribution to modelling the rise in sea level.
Responsible for the operation of the two GRACE satellites was the German Space Operations Center at DLR in Oberpfaffenhofen with its ground stations in Weilheim and Neustrelitz. "The failure of eight of a total of 20 battery cells on board GRACE-2 has reduced the capacity of the ageing battery to the point where scientific use of the satellite is no longer possible," explains Sebastian Löw. Especially during the flight phases where the satellite is without solar radiation, the energy reserves were no longer sufficient to prevent reboots of the on-board computer and associated communications breakdown. The battery is always a critical resource for a mission of this length. GRACE-2's battery started showing the first signs of ageing in 2013, after more than 10 years in orbit.
After a seventh cell failed in September 2017, it was decided to prepare GRACE-2 for scientific operations again at the beginning of October. "At this point we would have been in a so-called 'full Sun orbit', which would have made operations possible, even with a greatly weakened battery," says Sebastian Löw. However, a few days before reaching this phase, another cell failed. At that moment, the Principal Investigators Byron Tapley from the University of Austin and Frank Flechtner from the GFZ, declared the GRACE mission to be over. GRACE-1 will now be subjected to some final tests before being put out of operation in the coming weeks.
GRACE-2 is currently (dated 25 October 2017) at an altitude of 302 kilometres just under 3800 kilometres before GRACE-1. Without fuel, the satellite will quickly lose altitude due to the resistance of the residual atmosphere. However, there is no risk of a collision with GRACE-1. The flight path of GRACE-2 also poses no risk to other active satellites, as stressed by DLR and NASA. "We expect to maintain contact with the satellite until shortly before re-entry into the atmosphere. However, during this time there will be repeated phases when we will not be able to communicate with the satellite due to the low battery voltage," says Sebastian Löw. NASA and DLR will jointly monitor how GRACE-2 re-enters the atmosphere and burns up there. Both GRACE satellites are built according to NASA regulations, so that they break up and burn up upon re-entry to the atmosphere. The US space agency has approved the planned uncontrolled re-entry into Earth's atmosphere.
In spring 2018, the successor mission GRACE Follow-On will launch from Vandenberg in California on a SpaceX Falcon 9 rocket. This mission will continue to measure the distance and relative speed between its two satellites using microwaves, as with the current GRACE mission. However, GRACE Follow-On will be enhanced with additional laser measurements, which will further increase the precision.