International Conference on Urban Geoinformatics (ICUG) – 2017, Teri University, New Delhi
The rapidly-evolving field of urban Geoinformatics can play a pivotal role in the 'smart cities' of the future. TERI University is organising the inaugural edition of the International Conference on Urban Geoinformatics (ICUG) on 22nd and 23rd February 2017.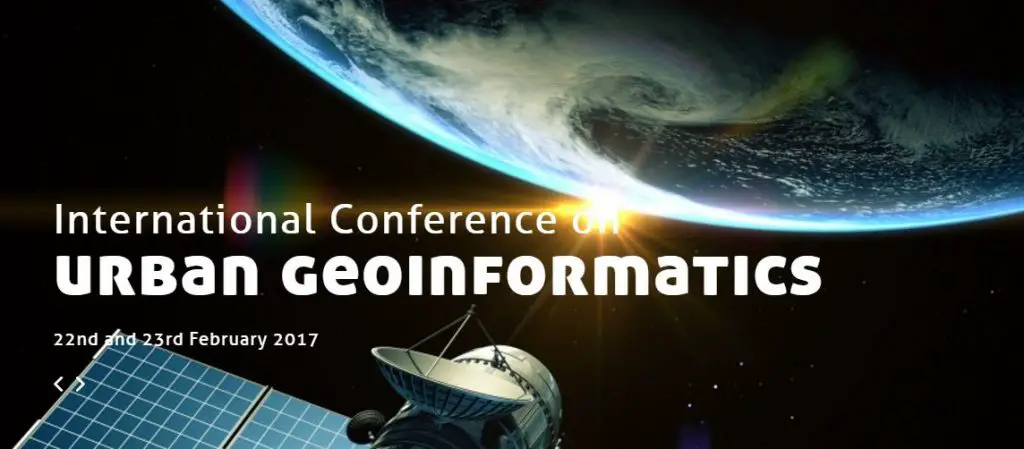 In addition to renowned Indian professionals in the field of Geoinformatics, the Steering Committee for the conference comprises experts and eminent academics from universities from around the world (including Denmark, Georgia, Germany, Hong Kong, Indonesia, Italy, Japan, Jordan, Malaysia, Netherland, Nigeria, Turkey, UAE and the USA). Also a number of prestigious institutions including, inter alia, the Indian Society of Remote Sensing (ISRS) and The Indian Geographical Society (IGS) would be partnering this venture.
The expected participation would be a balanced mix of academics, students, researchers, private sector firms engaged in the field, equipment manufacturers and 'end-users' of the knowledge. In view of the keen interest shown by the Government of India in this emerging field, as evident from the recent policy statements, it is also planned to invite Government agencies and officials to participate. A small exhibition by our industry partners is also being planned on the side-lines of the conference to enable them to showcase their products and services to the target audience. The forum would thereby provide an opportunity not only for sharing knowledge and experience, but equally of networking with people from around the globe who are engaged in the niche field of Urban Geoinformatics
Challenges of rapid urbanisation, ranging from governance, infrastructure and environment, can be effectively solved by integrating many varied multi-disciplinary fields – including Geoinformatics. Integration of spatial information with spatial data relating to complex problems in urban sciences and urban engineering is rapidly gaining acceptance as a means of making future cities 'smart' as well as sustainable.
Further details, including information about the themes and events that are planned for the conference, are available on the conference website (http://icug.teriuniversity.ac .in/).
For details on sponsorship as well as other participation opportunities, you may contact me the Conference Director, Dr Y. Nithiyanandam (Assistant Professor, Department of Natural Resources, TERI University) at email icug@teriuniversity.ac.in.