ISRO signs Three MoUs with Government of Andhra Pradesh for use of Geospatial Technology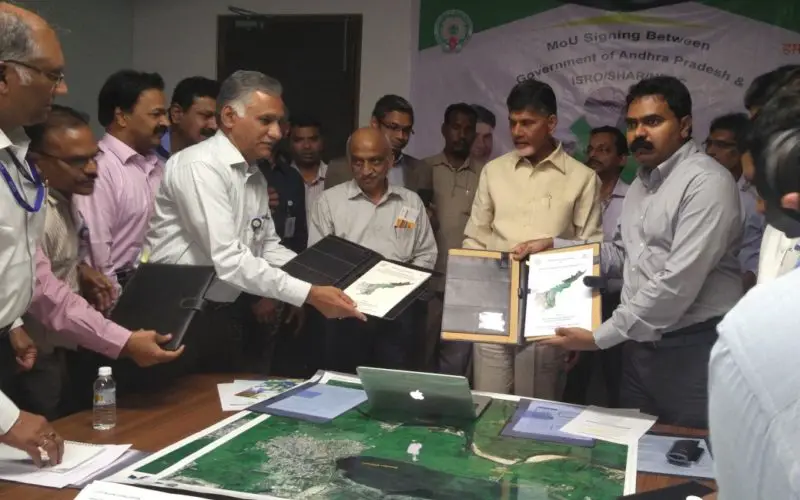 India – The Government of Andhra Pradesh (Govt. of AP) signed Memorandum of Understanding (MoUs) with ISRO for the deployment of space technology in governance and development of the State. Following are the three MoUs signed for utilization of geospatial technology in Meteorological Services, Disaster Management, and Water Resources Management:
MoU between Govt. of AP and Satish Dhawan Space Centre SHAR (SDSC SHAR), ISRO, Sriharikota for experimental meteorological services to the State.
Andhra Pradesh Varuna , an android mobile app was also released on this occasion. This app makes use of Automatic Weather Stations and Ground Water Piezometers, installed across the state, as well as weather forecast data from ISRO to provide required weather parameters:
Current weather (Rainfall, Temperature, Humidity, Wind Speed and Direction, Ground Water Levels) from 1800 Automatic Weather Stations and 1200 Ground Water Piezometers
Next 24 hrs forecast at six hourly intervals
Next 7 days forecast
MoU on Disaster Management Support (DMS) with National Remote Sensing Centre (NRSC) ISRO, Hyderabad using Space-based inputs.
The scope of the MoU involves customisation of near real time space based inputs for Andhra Pradesh on natural disasters, customised mobile apps for collection of field data etc., The DMS is extended to the natural disasters like floods, cyclones, forest fires, earthquakes, landslides and tsunami.
MoU on development of web-based geo-portal "AP State Water Resources Information and Management System (APWRIMS)" signed between Water Resources Department, Govt. of Andhra Pradesh (WRD-AP) and NRSC. 
The APWRIMS will host all the spatial and non-spatial data of water resources sector of the State. The system is expected to facilitate seamless ingestion of real-time field data, facilitate water resources inventory through satellite observations and validated models, constitute decision support tools, water audit, etc. NRSC would provide requisite technical know-how, training and guidance to WRD-AP.
The MoUs were signed on March 15, 2017 at Gannavaram near Vijayawada in Andhra Pradesh in the presence of Honourable Chief Minister of Andhra Pradesh, and Chairman, ISRO / Secretary, Dept. of Space.  Director, SDSC-SHAR, Director, NRSC, Scientific Secretary of ISRO, Senior Officials from NRSC, SDSC-SHAR and Govt. of Andhra Pradesh were also present during the event.
Andhra Pradesh has been extensively using Space based inputs for societal applications and these MoUs reiterate its commitment to extend these applications with the help of ISRO.
Source: ISRO