Japan Successfully Launches Small Radar Imaging Satellite "ASNARO-2"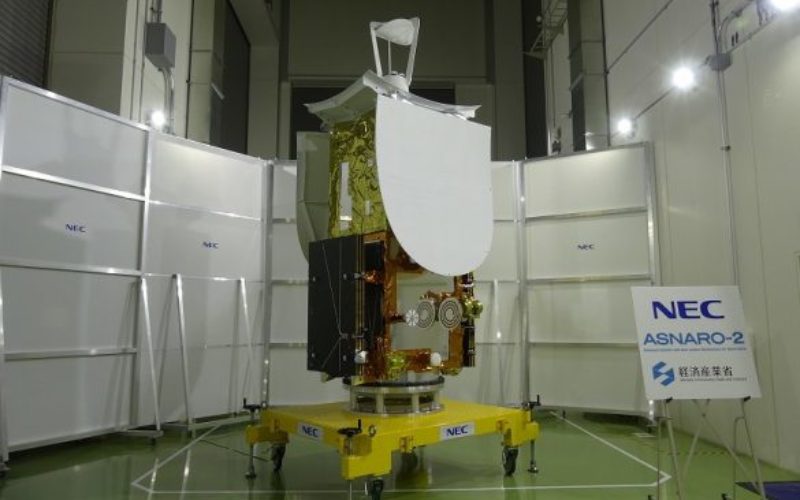 January 18, 2017, JAXA – JAXA successfully launched Epsilon-3, the third Epsilon launch vehicle which encapsulates NEC Small radar satellite "ASNARO-2", from the JAXA Uchinoura Space Center. The launch occurred on time.
The launch and flight of Epsilon-3 took place normally. Approximately 52 minutes 35 seconds into the flight, the separation of ASNARO-2 proceeded, with confirmation as successful.
Japan's first launch of 2018, Wednesday's mission was originally scheduled towards the end of last year, before an electrical issue with the rocket delayed its liftoff. Epsilon was tasked with deploying the ASNARO-2 satellite into a sun-synchronous low Earth orbit.
Advanced Satellite with New System Architecture for Observation 2 – or ASNARO-2 – is the second in a series of experimental Earth imaging satellites operated by Japan Space Systems, formerly the Institute for Unmanned Space Experiment Free Flyer (USEF).
ASNARO-2 was constructed by NEC, and is based on the modular NEXTAR NX-300L platform. It measures 3.9 meters (12.8 feet) in length and 1.5 meters (4.9 feet) in height and width, excluding its solar panels and radar antenna. The satellite has a mass of 570 kilograms (1,257 lb) – including its 220-kilogram (485 lb) payload and 45 kilograms (99 lb) of propellant.
ASNARO-2 will be operated in a near-circular sun-synchronous orbit, at an altitude of 505 kilometers (314 miles, 273 nautical miles) and an inclination of 97.4 degrees. It will orbit the Earth about once every 95 minutes.
The spacecraft carries XSAR, a synthetic aperture radar (SAR) payload operating in the X band. This can be operated in three different observation modes: spotlight, strip mapping and scanning.
The spotlight mode, where the instrument focusses on a small area of the Earth's surface, offers the highest resolution – one meter (3 feet) or better – with a swath width of 10 kilometers (6.2 miles, 5.4 nautical miles). In strip mapping mode, the satellite can image a longer strip of the Earth's surface in the direction of travel.
This offers a resolution of better than 2 meters (7 feet) over a swath width of 12 kilometers (7.5 miles, 6.5 nautical miles). Scanning mode allows the satellite to image a wider area – with a swath width of at least 50 kilometers (31 miles, 27 nautical miles) – at a resolution of at least 16 meters (52 feet).
Source: JAXA and NASA Spaceflight