Latest SuperGIS Desktop Enhances Editing Performance and Functionality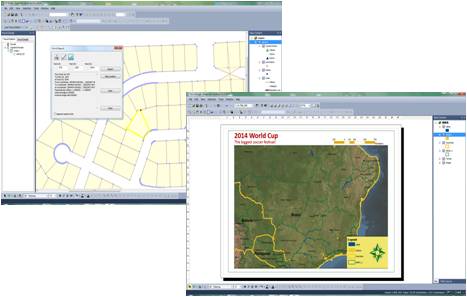 Developed by Supergeo, the updated SuperGIS Desktop 3.2 now provides users with a more powerful and comprehensive platform to display and edit GIS data by strengthening the performance, stability and adding more functions.
 SuperGIS Desktop 3.2, the powerful desktop GIS of SuperGIS series products, integrates abundant GIS tools to offer GIS users from various domains a professional platform for geoprocessing, analyzing, displaying, editing, managing, and querying spatial data even faster and more easily.
 The new update of SuperGIS Desktop 3.2 enhances the compatibility with Windows 8.1 and the efficiency of editing layer and attribute table significantly. Land Parcel Editor tools are also improved to assist users in effectively interacting with cadastral data. GIS users will find the overall performance, manipulation stability and map display optimized in the new edition.
 SuperGIS Desktop 3.2 now supports Brunei coordinate system and more U.S. local coordinate systems to facilitate global GIS data usage. In terms of geoprocessing, SuperGIS Toolkit now comprises diverse data processing and analysis functions such as Stack Bands, Define Projection and so forth for offering more analyses to users.
 The rich functions in SuperGIS 3.2 extensions, including SuperGIS Network Analyst, Spatial Analyst, Spatial Statistical Analyst and 3D Analyst, are upgraded in the latest SuperGIS Desktop 3.2, supplying users with more comprehensive and complete analyses,.
 To know more product information and download the newest trial, please visit Supergeo website: http://www.supergeotek.com/download_6_desktop.aspx, or contact e-mail: staff@supergeotek.com.
#  #  #
 About Supergeo
Supergeo Technologies Inc. is a leading global provider of GIS software and solutions. Since the establishment, Supergeo has been dedicated to providing state-of-the-art geospatial technologies and comprehensive services for customers around the world. It is our vision to help users utilize geospatial technologies to create a better world.
Supergeo software and applications have been spread over the world to be the backbone of the world's mapping and spatial analysis. Supergeo is the professional GIS vendor, providing GIS-related users with complete GIS solutions for desktop, mobile, server, and Internet platforms.
 Marketing Contact:
Sarah Liu
Supergeo Technologies Inc.
5F, No. 71, Sec. 1, Zhouzi St., Taipei, 114, TAIWAN, R.O.C.
TEL:+886-2-2659 1899
Website: http://www.supergeotek.com
Email: sarahliu@supergeotek.com