Minister of Railways Launches One E-enabled application for Proper Monitoring of all the Railway Projects
Minister of Railways launches one E-enabled application, namely, Project Management & Information System (PMIS) for proper Monitoring of all the Railway projects throughout the country
This Application will be able to have a watch over the lifecycle of any project of the Railways
Shri Suresh Prabhakar Prabhu, Minister of Railways during a function held at Rail Bhawan today i.e. 03.05.2016 launched one E-enabled project, namely, Project Management & Information System (PMIS). Shri Manoj Sinha, Minister of State for Railways was especially present on the occasion. Railways Board Members and other dignitaries were also present on the occasion.
Speaking on the occasion, Minister of Railways Shri Suresh Prabhakar Prabhu said that the Indian Railways has numerous big projects throughout the country which are of crores of rupees and have many complexities. He said that proper monitoring and management of these big projects is the demand of the Indian Railways. He said that to provide best railway network in the country, Indian Railways needs two things; one is money and the second is proper monitoring of projects in which that money is to be spent. He said that it is necessary to keep proper monitoring and management of the existing projects instead of keep on launching new projects. He said that this new PMIS system will contain all the information about the ongoing projects which will help in reducing the completion time of the project. He said that when, on the one side, this new Application will help in fixing the responsibility for delay in projects on the other hand officers would be awarded for timely/early completion of projects.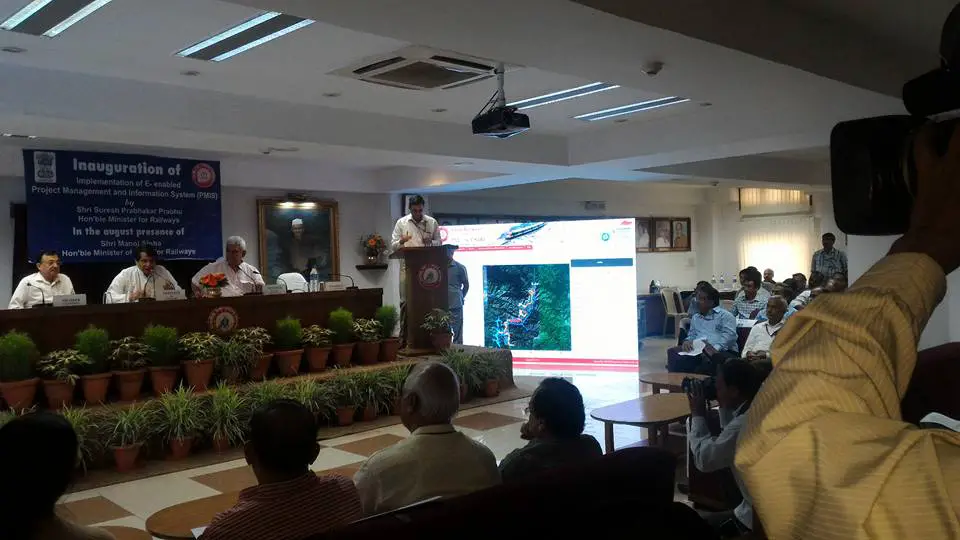 Speaking on the occasion, Minister of State for Railways Shri Manoj Sinha said that this E-Enables Application will, certainly, be able to reduce the completion time of the project which will save money and ultimate will benefit Railways economically. He emphasized on the need of digitalization so that there can be proper monitoring of the lifecycle of the projects.
Salient Features of the Application: –
Indian Railways have over 600 major projects of network expansion and modernization costing around Rs 4.5 lakh crores.Now Railways have adopted approach of funding the projects through market borrowing (Institutional funding) to set its network expansion on high growth path. Capex increased from Rs 58 thousand crores in 2014-15 to Rs 93 thousand crores in 2015-16 and we have pegged our capex at Rs 1 lakh 21 thousand crores in 2016-17.In terms of commissioning/ addition of network, commissioning of over 2800 km Broad Gauge lines in 2015-16 against about 2000 Km in 2014-15 and against an average of 1529 Km per year in the preceding five years. In next 4 years, ambitious targets for commissioning of about 14 thousand kilometer BG track has been set.
Project Management and Information System (PMIS) is a step towards that direction. It is a web-enabled IT- Application to create a technology and knowledge platform to manage the entire lifecycle of complex railway projects. It is a step in leveraging resources and to empower railways & stakeholders in transforming the way projects are designed, built and commissioned.
PMIS is being implemented in the Udhampur-Srinagar-Baramullah Rail Link (USBRL) Project as it has complexities of fragile geological formations and unstable geomorphology of young Himalayan Mountains, needing extensive investigation and treatment, extremely steep slopes and rugged terrain, coupled with inclement weather – project alignment remains snowbound for entire winter season and high seismicity.
Hence, it was decided to use information and communication technology to create a consolidated knowledge repository which will result in collaborative innovation, transparency and accountability. DroneRecording and CCTV coverage is being implemented as part of monitoring. PMIS comprises of various integrated modules Project Information and Collaboration Management Dashboard, Geology and Geographic Information, Tunnel, Bridge, Embankment, Yard & Station Design, and as-built drawings integrated with 3D models, Drawing& Document Management Workflow, Linear Project Management – Planning, Scheduling and Monitoring, Monitoring using drones equipped with video cameras and fixed CCTV cameras at construction sites,Contract and Claim Management, Budgeting and Cost Monitoring, Incident Management, Asset Management and user Management.
It is planned to roll out PMIS to all the major projects across the country. Benefits expected to be accrued from bringing all the projects on PMIS platform include online monitoring and mid-course correction to ensure faster execution, repository of design, drawings, resources, schedules etc. will help in better estimation and planning, improved designs and standardization of drawings, Optimal utilization of resources and faster decision making.
Source: PIB