Geological Survey of India Mapping Nepal Earthquake Aftershocks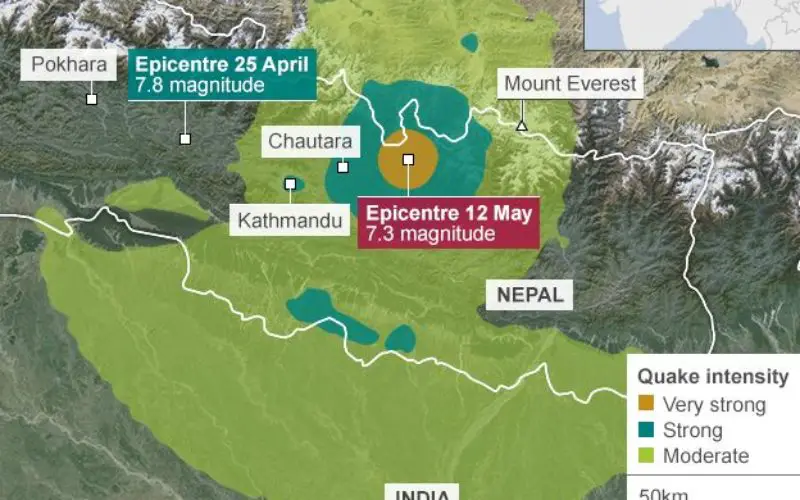 In a bid to aid community preparedness, scientists at the Geological Survey of India (GSI) are monitoring the aftershocks in various parts of the country following the massive April 25 earthquake that hit Nepal, an official said.
The GSI is carrying out "extensive" monitoring and assessment through 14 portable seismographs (a device that measures seismic waves following quakes, other events) in various parts of quake-affected India.
"The deputed scientists in various parts are installing seismographs to monitor the aftershocks and all other events. This information will be plotted on seismo-tectonic maps for future community preparedness," R. Dharuman, deputy director general and national head, Mission-IV, who is overseeing the monitoring, told IANS.
He said the scientists are covering north India extensively.
"The information will be compiled in a report. The stress is on community preparedness since one can't really predict earthquakes," he said.
The death toll in the April 25 killer quake in the Himalayan nation, measuring 7.9 on the Richter Scale, has crossed 8,000.
While the country was barely recovering from the loss, a temblor measuring 7.3 on the Richter Scale hit Nepal on Tuesday, with its epicentre not far from Mount Everest — the world's highest peak at 8,850 metres.
West Bengal, Bihar, Odisha, Jharkhand and national capital New Delhi as well as other areas were rocked by tremors on May 12. Tall buildings shook as far away as Kochi in Kerala.
Dharuman said there is a need to be alert since the aftershocks are likely to continue.
– IANS