SuperGIS Manuals Are Now Available Online!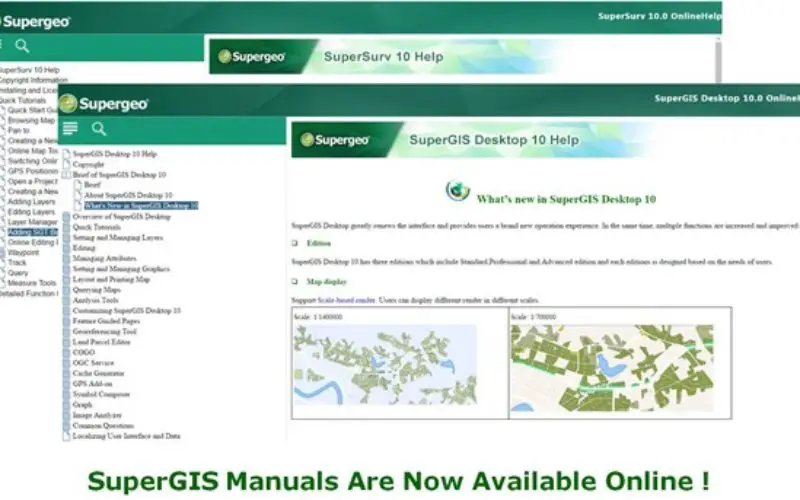 No matter you are a GIS beginner or an old hand; we always have some moments that are uncertain about how to use a particular function, like how to create Thiessen Polygons to draw a soil distribution map. Now, with the convenience brought by modern internet technologies, most people are getting used finding the answers online by themselves directly. Therefore, in response to this trend, Supergeo has made continuous efforts to provide online product resources in recent years.
Most GIS software products on the market are equipped with different features, including creating, displaying, editing, analyzing spatial data, etc. Sometimes, it is difficult to figure out where to start, especially for the versatile software installed on PC like Desktop GIS and Server GIS. Hence, to make users understanding how to manipulate GIS software for decision making, Supergeo's product team has launched a new series of online video tutorials, aiming to help users learn the tips and tricks of GIS software more efficiently. Furthermore, Supergeo has also released online manuals for its core products, which includes SuperSurv, SuperPad, SuperGIS Desktop, and SuperGIS Server. This move enables users to search for the steps of different manipulations as well as the meaning of parameters effortlessly.
In the past, users should open the manual from the downloaded trials, which is very inconvenient if you only want to check specific features. Now, since manuals are all available online, you can easily search for related contents by the browser instead of installing the software. Additionally, by subscribing to the YouTube channel Supergeo TV, you can learn how to solve tricky GIS problems almost immediately and save a lot of time and energy.
Take a look at our online manuals:
http://www.supergeotek.com/support_help.aspx
Watch Supergeo TV for more GIS tips and tricks:
https://www.youtube.com/user/supergeotv