Survey Earth in a Day 4D
Survey Earth in a Day 4D
June 21, 2015 – 4th Annual Global Celebration of the Land Surveying Profession
Welcome Surveyor! At Noon, on the day of the solstice, June 21, 2015, geospatial professionals around the world along with members of Land Surveyors United (our geosocial support network for land surveyors) will be simultaneously recording survey grade GNSS data from thousands of points around the globe.  This will be the fourth celebration of the first event of its kind; Survey Earth in a Day 4D!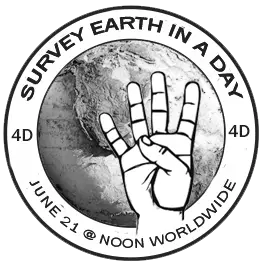 Survey Earth in a Day 4D is a global surveying event, which is open for any professional specializing in the use of survey grade GNSS equipment, and/or the analysis of the resultant data.
When was the last time the Earth was measured with great precision- in its entirety- by surveyors and geospatial professionals, simultaneously, during the course of a single day?   Survey Earth Day 3D 2014, of course. the geospatial professionals of the world will have another opportunity to re-visit this monumental first-of-its-kind event in Survey Earth in a Day 4D.  Thank you to all who participated last year, and welcome to you and all new registrants for the 2015 event!
What to Do on June 21, 2015
Our only requirement is that measurements be made with survey grade GNSS equipment at noon on June 21. Simply take a GNSS reading at Noon. This can be at your home, office or jobsite. The goal is to have as many points around the world from as many locations as possible. All data submitted to Survey Earth in a Day should be in RINEX format. If we all use the same format, it will be easier to post-process the data.
In order to give us a rough idea of where everyone will be making GNSS observations, first, double click and find the location where you will be gathering GNSS data from @noon for Survey Earth in a Day. In the form that pops up, please tell us the type of location and a short description of what this place is.
Or