The Size of Indian Geospatial Market to Cross Rs 360 Billion by 2025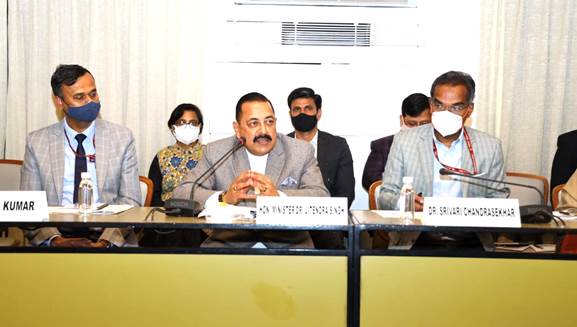 Dr. Jitendra Singh, Union Minister of State (Independent Charge) for Science and Technology; Minister of State (Independent Charge) for Earth Sciences; and MoS PMO, Personnel, Public Grievances, Pensions, Atomic Energy, and Space, said that the Modi government's SVAMITVA scheme will use geospatial technology and drones to survey all of India's over 6 lakh villages.
The Minister was speaking as a Chief Guest commemorating the 1st Anniversary of the Release of Geospatial Data.
Dr. Jitendra Singh informed that Geospatial Policy will be announced soon as the liberalization of the guidelines has yielded very positive outcomes within one year's time. He said, open call for empanelment of Geospatial companies by Survey of India for mapping 6 lakh villages under the SVAMITVA scheme and the launch of pan-India 3D Maps Program by Genesys International for 100 cities, based on the concept of Digital Twins are historic and revolutionary in nature and will be a game-changer decision.
The Minister also drew attention to the launch of Indo ArcGIS by Esri India to address the need for ready-to-use GIS-based solution products and content in the areas of Forest Management, Disaster Management, Electrical Utilities, Land Records, Water Distribution, and Property Taxation.
---
Also, Read – UAV Mapping for Land Record Modernization
---
The Minister said Geospatial technologies are the nation's "digital currency" that finds dynamic application into multiple sectors like Infrastructure, Manufacturing, Health, Agriculture, Urban Planning, Highways, and Service Delivery.
He added the size of the Indian Geospatial market in 2020 as per one industry estimate was INR 23,345 Crore including INR 10,595 Crore of export which is likely to grow to INR 36,300 Crore(approx 360 billion) in 2025.
In his concluding remarks, Dr. Jitendra Singh said that open and easy access to Geospatial information has helped in maximizing the use and reuse of data within a single year of its launch. We hope to see many more innovative solutions and new business models in the coming times building value upon existing resources. He said the Department of Science and Technology has truly triggered a systemic change within the Geospatial ecosystem with these guidelines.
The Minister appreciated the efforts of DST and AGI in bringing together all stakeholders today to discuss the impact so far and the way forward with a reformed outlook in mind.
Source – PIB