What's New in ENVI 5.1?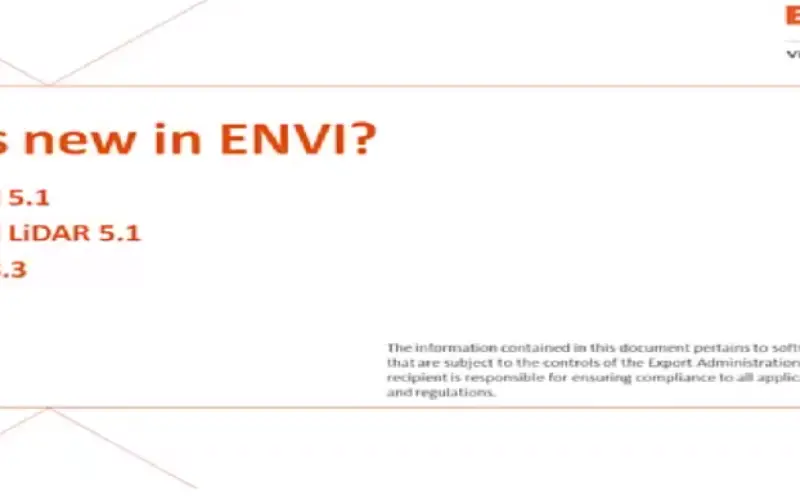 Yesterday I got my first hand on experience with the ENVI 5.1,  image processing software.  Loaded with lots of many new features and with a new user interface.
The ENVI 5.1 has come up with new data types:
IRS Resource Sat 2
Nigeria Sat – 1 and 2
SSOT (FA Sat – Charllie)
KOMPSAT – 3
RASAT & Gokurk – 2
SICD (NITF format)
SSOT (FASat-Charlie)
EDR derived products from NPP VIIRS
Active Fires product from NPP VIIRS

GeoEye-1 in DigitalGlobe format (.til)

ECRG

Göktürk-2

NigeriaSat-1 and -2

P

DS

RapidEye Level-3B Area-based Ortho

RASAT
The new version has extended support for Landsat 8 satellite data:
ENVI reads thermal infrared (K1 and K2) coefficients from the associated _MTL.txt metadata files.

 

Quality and Cirrus cloud bands are listed as separate bands in the Data Manager and Layer Manager.

Reflectance gains and offsets are automatically corrected for solar elevation.

FLAASH atmospheric correction works with Landsat 8 data.
 In addition to updated sensor support, ENVI 5.1 provides availability to read and display data from a number of new data formats such as:
ENVI 5.1 can open generic HDF5 files. A new select HDF5 datasets dialogue allows user to view dataset and attribute contents within an .h5 file. Users can build rasters from a combination of different 2D and 3D components. Users can also create a raster that consists of datasets from different .h5 files. There is an option for user to export an ENVI meta virtual file for easy re-open. Built, save and restore templates defining structure of raster datasets
New Spatial Profile Tools
Horizontal Profile
Vertical Profile
Arbitrary Profile
New Horizontal and Vertical Profiles plot pixels that fall along the horizontal or vertical cursor line, respectively. A new Arbitrary Profile tools also available to plot pixels that lie beneath a transect .
Spectral Profile Tool Enhancements
New plot preferences allow users to set the default look for plot windows.
 Users can modify plot properties, display manipulation, plot function control.

Support for drag and drop functionality between multiple plot windows also being added. 

Another great feature the new spectral profile tool is built in Normalized Difference Vegetation Index legend the allows user to quickly determent the health of vegetation by simply click in pixel location.
Processing Tools
Completely New Regions of Interest
 ENVI 5.1 supports all classic "ROI Tool" functionality.

Geometry Tools also allow users to drawing a polygon, rectangle, ellipse, polyline; selecting a discrete point; and, if desired, combining geometry into a multi-part ROI.

ROI can also defined by pixels.

Select one or more pixels.

User can also grow ROIs from neighboring pixels.

Create ROIs from band thresholds.

Open and convert an ENVI Classic .roi to a georeferenced (.xml) ROI.

ENVI programmers can automate many ROI functions.

ENVI 5.1, ROIs are no longer tied to an image of a certain size but can be transferred from image to image.
 Introducing the Seamless Mosaic Workflow
 The new Seamless Mosaic workflow combines multiple georeferenced scenes into one image. It provides several features to create a quality mosaic such as seamline creation and editing, edge feathering, and color correction.

Standard option allow user to control scene stack order, set data ignore value, show and hide scene, select resampling methods, specify output area, specify output bands, specify background value.

Advance options allow users to apply color correction, apply feathering and blending adjustment, Automatic seamline generation, manual seamline editing. 

Advanced automatic seamline generation algorithm insensitive to image stack orders. 

View a preview of output mosaic with all processing before execution and export.
Improved User Experience
The Spectral Library Viewer and Select Coordinate System dialogs contain a Search field, making it easier to find a given spectral signature or coordinate system, respectively.

Raster and vector layers are displayed accurately, regardless of mixed coordinate systems and/or datums in the same view.

High-resolution local datasets and low resolution global datasets also display accurately together in the same view also be added.

Save and restore the layers of an ENVI session through the ENVI user interface, or by using the ENVI::SaveSession and ENVI::RestoreSession API methods. 

Ability to rename item in layer manager.

The ENVI Help conforms to the HTML5 web specification and displays in your system's default web   browser. 

Use the mouse scroll wheel to zoom in or out of the display when the Zoom button is active. 

Hold down the Shift key while scrolling for a faster zoom. Hold down the Ctrl key while scrolling for a slower zoom. 
The following fields are new options for customizing the Status Bar:
 NITF Security Banner: The highest security level when multiple NITF layers are displayed

Raster Data Values: The pixel values for the top-most raster layer in the Layer Manager

Pixel Coordinates: The x,y pixel coordinates
Miscellaneous Enhancements
ENVI 5.1 includes number of enhancements including:
Faster processing of image services.

Faster processing of speed by performing RPC orthorectification workflow has increased by 25x. 

Users also now have access to the operating system clip board when performing copy and paste operation.

HASP support for 64 bit windows operating system. 

The RPC Orthorectification workflow has an option to specify a Grid Spacing value. This represents the grid spacing in output pixels, for which ENVI finds the corresponding pixels in the input images through an RPC-based transform. 

A new tutorial demonstrates how to use FLAASH to correct AVIRIS hyperspectral data for   atmospheric effects.A new tutorial shows how to use the Spectral Profile and Spectral Library Viewer to analyze AVIRIS hyperspectral data.
Contributed by:
Nisha Upadhyay
Research Fellow
Indian Agriculture Research Institute
New Delhi, India