3 New Elevation Viewers, Now in Site Scan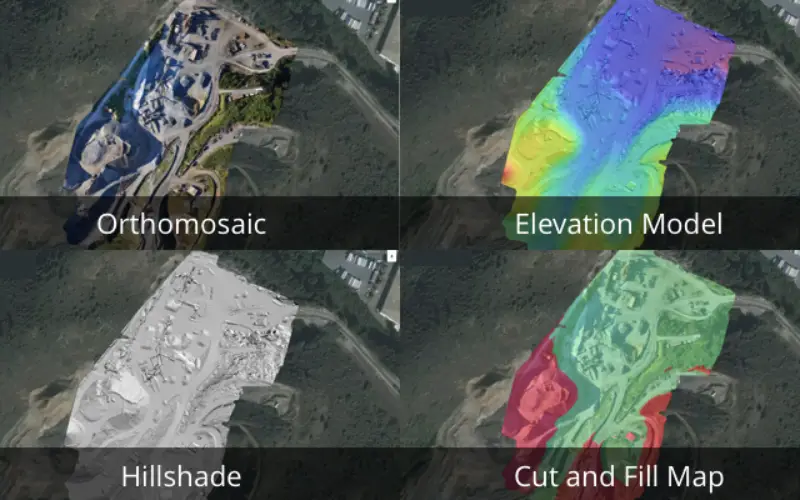 August 9, 2017 – One of the most common uses for Site Scan is performing topographic surveys: you can use a drone to survey your site faster, safer, and more cost-effectively, while also capturing far more detail than traditional methods. This makes it easy to collect the data you need to grade your jobsite and prepare it for construction.
To make things even easier in the pre-construction phase of your projects, today we're introducing three new ways for you to visualize your elevation data: Elevation Models, Hillshades, and Cut and Fill Maps are now available directly within Site Scan Manager.
Elevation Model: With this model, you can turn your elevation data into a heatmap in order to quickly understand and verify elevation across your site. This is crucial, for example, when you need to know which way drainage water will flow and what areas of your site will require the most grading. You can adjust the altitude ranges to view the area that you're most interested in, and change the opacity as well.
Hillshade: Need to clearly identify the 3D objects in your orthomosaic? The hillshade viewer makes it easy, providing a grayscale 3D image of your jobsite.
Cut and Fill Map: In addition to cut and fill calculations, now you can easily set your desired grading elevation and then view a high-resolution cut and fill map to know exactly how much work needs to be done to level your site. You can also adjust the opacity of the cut and fill map, helping you see your orthomosaic and make critical earthwork decisions for your project.
Want to see how our new elevation viewers work, along with the rest of Site Scan? Get a free demo from one of our product specialists—they'd be happy to answer any questions you may have.
We're hosting a Site Scan training webinar at 10AM on Wednesday, August 30th to provide a walkthrough of the product. Want to join? Register here.