ArcGIS Earth Just Got Even Better With Launch of ArcGIS Earth 1.3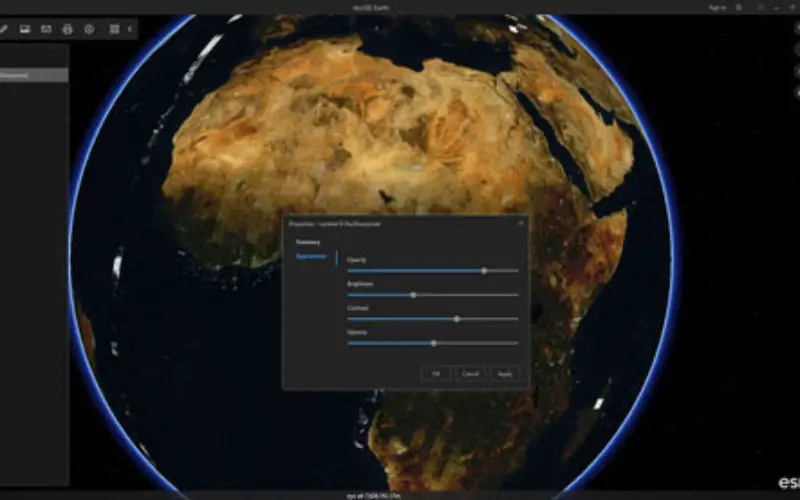 ArcGIS Earth 1.3 with Control Vertical Exaggeration and Image Properties
With ArcGIS Earth 1.3 you can now do more with terrain, imagery, and KML. You will also discover authentication improvements and new ways to add personalization to the app.
Vertical Exaggeration Control
In ArcGIS Earth 1.3, users will now see an on canvas control that enables interactive manipulation of a terrain's vertical exaggeration. Earth users can emphasize areas with subtle variations in height or flatten surfaces to assist visual data exploration.
Image properties
ArcGIS Earth 1.3 users have the ability to change the display of imagery without having to change the source data. Opacity, brightness, contrast and gamma controls are available for independent manipulation. Multiple image services may have properties set which are unique to each TOC item.
Other Important Improvements
ArcGIS Earth 1.3 also contains several configuration and personalization enhancements to Public Key Infrastructure (PKI) workflows for reading secure services as well as ongoing improvements to KML.
Earth users can configure their own workspace directory location and set default local or service-based elevation and basemaps that can be used while offline. Users will be able to also load a workspace without having to set the default workspace directory to the source workspace location. Additionally, users have the choice of flipping the order of latitude and longitude for search as well as on the display. Included in this release is also a custom banner that can be configured by the user. Many of these features can also be set in the configuration file that is available to administrators.
Other usability and stability enhancements have also been added in this release. TOC and data loading improvements include better display of icons for drawing elements in the table of contents and improvements to csv/txt import dialogs. Network links in KML will no longer pause after the user pans the view with the mouse.
ArcGIS Earth continues to provide a simple and easy way for enterprise users to visualize and collaborate using 3D and 2D data. Future improvements will include drawing enhancements, map tours, and tighter integration of ArcGIS Earth with ArcGIS Online and Portal for ArcGIS.
We value the comments received from our users as it supports future improvements to Earth.
Try out the new features of ArcGIS Earth 1.3 – free and available for download and use here.