Bhuvan Bhujal Portal – Ground Water Prospects Information System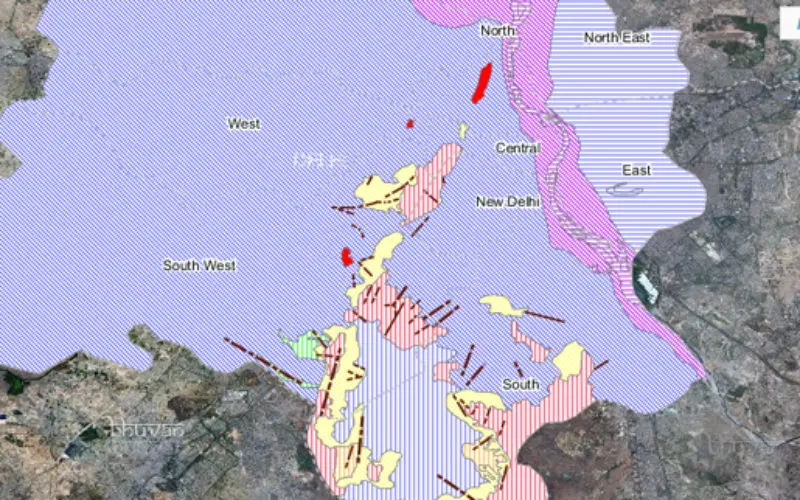 The National Remote Sensing and Application Centre (NRSC), India has recently launched a web application "Bhujal Portal".
Bhujal is sponsored project by Department of Drinking Water and Sanitation, Ministry of Drinking water Sanitation, Government of India to prepare nationwide ground water prospects maps.
Bhujal is an initiative under the Accelerated Rural Water Supply Programme (ARWSP ) of Government of India as a major developmental activity in water sector to provide drinking water to all the habitations in a time-bound-period. The need of scientific database on ground water potential zones is very essential for systematic selection of appropriate sites for drilling. The non-availability of such scientific database in many states makes it hard to tackle the drinking water problem on war footing by the concerned state officials involved in rural water supply.
India is a vast country comprising of diversified geology, topography, and climate. Thus the occurrence and distribution of the groundwater is not uniform throughout the country and varies significantly based on geology, lithology, soil rainfall and geomorphology.
Groundwater being a hidden resource is often developed without proper understanding of its occurrence in time and space. The total number of wells in the country has gone up from about 4 million in 1951 to more than 15 million at present, and the number of energized pump sets in the same period has grown from initially negligible to about 12 millions (PIB, Govt. of India). Most of these wells are drilled indiscriminately based on the requirement. As a result, many of the times, the wells have gone either unproductive or became failures causing financial loss to the users. In the over-exploited zones, the wells are gradually getting dried up in due course of time. On the other hand, in some cases, the resource is yet to be exploited to the optimum level.
A comprehensive and a reliable scientific study for delineation of potential groundwater zones for the entire country is a pre-requisite for proper exploration and management of groundwater resource in the areas where ground water is having high potential, medium  potential, low potential and very low potential, for planning its optimum development and effective utilization in hitherto unexploited areas.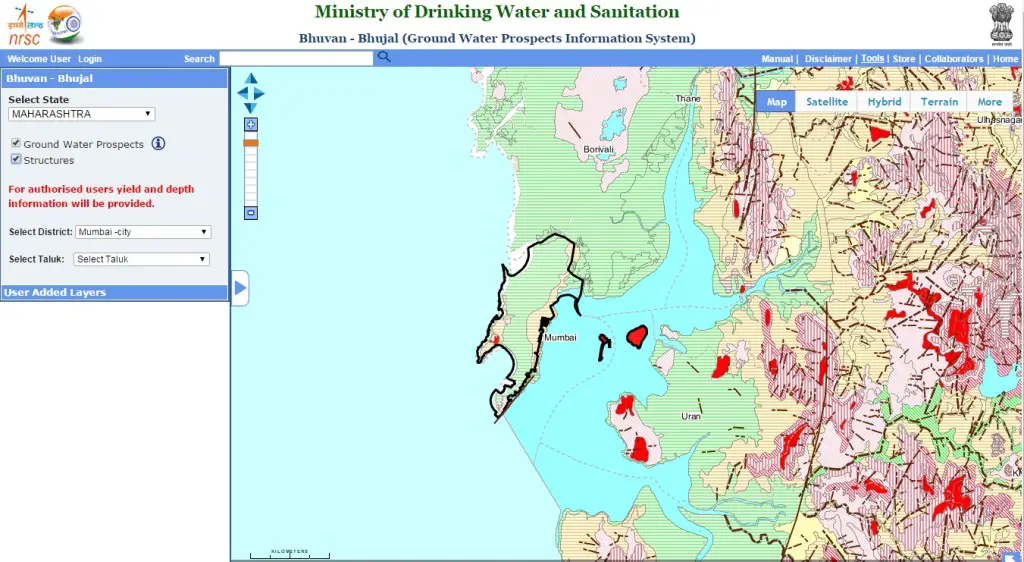 NRSC/ISRO has brought out nationwide scientific database on prospective ground water information from the state-of-the-art ground water prospects maps generated for the past one and half decade through Bhuvan Bhujal portal. This information can be utilized by the government and private agencies for development of ground water. It provides the required information on geological parameters connected to ground water exploration and the probable ground water prospects. It narrow down the area of investigation for prolific selection of 1) sites for drilling and 2) for planning recharge structures, ultimately to address the drinking water problem more effective manner.
Features of Bhuvan  Bhujal Portal:
User can visualizes the Ground Water Prospects information in terms of depth (shallow, moderate and deep).
Legend for understanding the ground water prospects information is well explanatory.
Bhuvan Bhujal portal provides mosaic groundwater prospects maps of sates seamlessly.
The maps are available for 20 states and 4 union territories (Arunachal Pradesh, Assam, Bihar, Chattisgarh, Haryana, Jammu & Kashmir, Jharkhand, Karnataka, Kerala, Maharashtra, Manipur, Meghalaya, Mizoram, Nagaland, Punjab, Sikkim, Tripura, Uttarakhand, Uttar Pradesh, West Bengal, Andaman & Nicobar, Delhi, Goa, Puducherry).
Remaining 9 states and 3 union territories maps information will be available very soon.
The ground water prospects maps may be useful for identification of prospective locations for narrowing down target zones for appropriate places for drilling.
These maps are the good inputs for aquifer mapping.
Maps help in identifying the suitable recharge structures for improving the ground water levels.
Limitation of Bhuvan Bhujal Portal:
Scale of mapping (1:50,000 scale) which is very small when looking for looking for detailed mapping of prospective ground water zones.
The accuracy of the map is around 100 meters (which includes satellite data accuracy and other mapping errors).
The maps are prepared based on the rainfall, depth to water table, availability of water in the water bodies during the period of the mapping; hence depth and yield will vary from current data. It is because of rain fall variations.
Only authorized users can access yield and depth information.