GPS Collaring to Protect Endangered Snow Leopard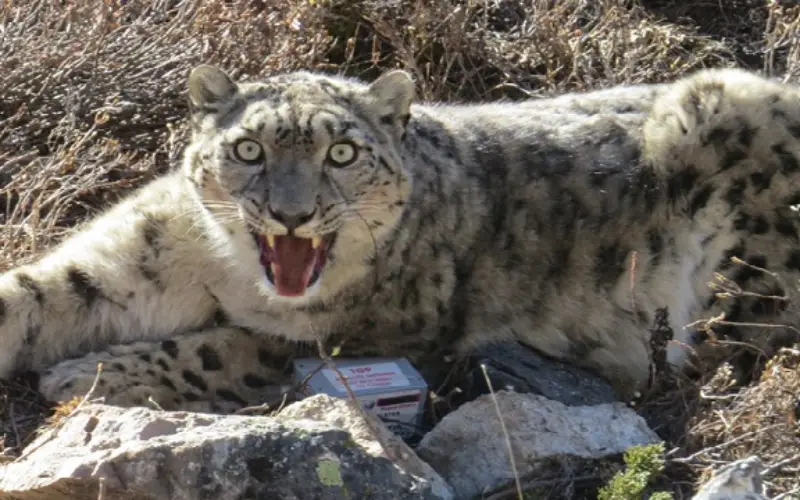 Scientists in Nepal have taken a decisive step to save the endangered of snow leopard. Scientists are using satellite GPS technology for collaring of snow leopard. Snow leopard is one of the most endangered species in altitude and inaccessible regions on the Nepal-China border on the Himalayan range.  
The historic collaring of a snow leopard using satellite GPS technology in Kangchenjunga Conservation Area in the Sacred Himalayan Landscape. This is the first time that satellite-GPS technology is being used in snow leopard collaring in Nepal. Prior collaring work on the species used VHF technology in the early 80s and 90s.
The collaring expedition that lasted 45 days beginning 7th November was led by the Government of Nepal's Department of National Parks and Wildlife Conservation with the support of WWF, Conservation and Adaptation in Asia's High Mountain Landscapes and Communities Project funded by USAID, National Trust for Nature Conservation, and Kangchenjunga Conservation Area Management Council/Snow Leopard Conservation Committee-Ghunsa. WWF Nepal provided both financial and technical support for the collaring expedition.
"The snow leopard collaring is indeed a new win for Nepal," stated Mr. Megh Bahadur Pandey, Director General of the Department of National Parks and Wildlife Conservation.
"It reiterates the commitment of the government to strengthen measures to better understand and protect the snow leopard whose survival is under threat from anthropogenic actions and the pervasive impacts of global climate change."
India, Nepal and China have about half of the global population of snow leopards, so the authorities in Nepal are discussing the possibility of trans-boundary research projects.
Dr. Dhakal of the National Parks Department of Nepal said,
"We have been working very closely with Indian authorities and just few months ago we had discussions with the Chinese government to carry out joint research on this species as it is of global importance".
Mr. Anil Manandhar, Country Representative of WWF Nepal stated:
 "The success of the collaring expedition opens up new frontiers in snow leopard conservation as well as new avenues to profile Nepal as a living laboratory to help build on international collaboration in conservation science."
Snow leopard conservation will also help local communities to build their own capacities in snow leopard monitoring. Further these studies will help in understanding of snow leopard, better understanding of the species and protecting the species from the poaching.  
Read full story at WWF Nepal