Indian Space Research Organisation (ISRO) Successfully Launches NovaSAR and S1-4 Satellite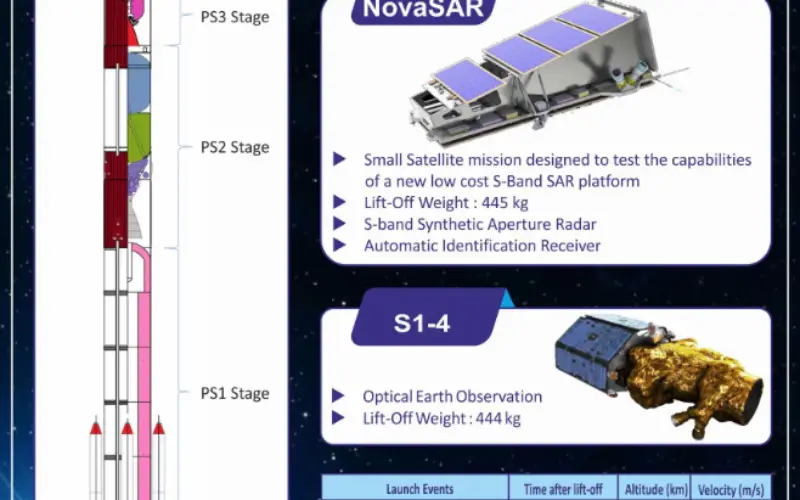 Sriharikota, Andhra Pradesh, India – Sep 16, 2018 – The Polar Satellite Launch Vehicle (PSLV-C42) of Indian Space Research Organisation (ISRO) today (16 Sept 2018, Sunday) successfully launched two satellites — NovaSAR and S1-4 — from the Satish Dhawan Space Centre (SDSC) SHAR, Sriharikota here.
The satellites belong to UK-based Surrey Satellite Technology Limited (SSTL), which has a contract with Antrix Corporation Ltd, the commercial arm of ISRO.
NovaSAR carries S-band Synthetic Aperture Radar (SAR) and an Automatic Identification Receiver payloads.  NovaSAR-S is a joint technology demonstration initiative of SSTL (Surrey Satellite Technology Ltd.), UK, and Airbus DS (former EADS Astrium Ltd, Stevenage, UK), funded by the UK Government via the UKSA (UK Space Agency). The overall objective is to make SAR (Synthetic Aperture Radar) observation missions more affordable to a customer base and to open up new application-oriented in the microwave region of the spectrum.
NovaSAR-S provides medium resolution (6-30 m) imagery ideal for applications in the following fields:
flood monitoring
agricultural crop assessment
forest monitoring (temperate and rain forest)
land use mapping
disaster management
maritime applications (e.g. ship detection, oil spill monitoring, maritime safety, and security of defence applications).
However, applications that can be served by a medium resolution (10-30 m) system are not limited to the list above.
S1-4 is a high resolution earth observation satellite. It has a mass of 440kg and is capable of acquiring multiple targets in one pass and will utilise spot, strip and mosaic imaging modes and 45 degree off-pointing agility for a range of applications including urban planning, agricultural monitoring, land classification, natural resource management and disaster monitoring.
The PSLV launch vehicle consists of four stages, each of which is a self-contained vehicle capable of functioning independently with own propulsion systems.
ISRO Chairman Dr K Sivan congratulated the team soon after the successful mission.
"I am extremely happy that the PSLV-C42 precisely launched two of our customer satellites at 583 km orbit.  This was unique night mission executed for the first time by us. The PSLV has proven yet again as a user-friendly vehicle in all aspects. The credit goes to the entire ISRO team and industries. This success will give added energy for industries to make PSLV by themselves. We are going to have 18 missions in the next six months, virtually one launch every two weeks," Dr Sivan said.
Thousands of skilled personnel from ISRO and industries, including many youngsters, played a crucial role in this mission. The Project Director of PSLV is R Hutton, who was also the Mission Director.
 "The PSLV-C42 marks the latest technology and commercial collaboration between India and the UK with the launch of the combination of high resolution optical and radar (SAR) satellites from us," says Sir Martin Sweeting, Group Executive Chairman, SSTL
As on date, ISRO has launched 239 foreign satellites of 28 countries.