ISRO Launches EOS-01 and Nine Other Satellites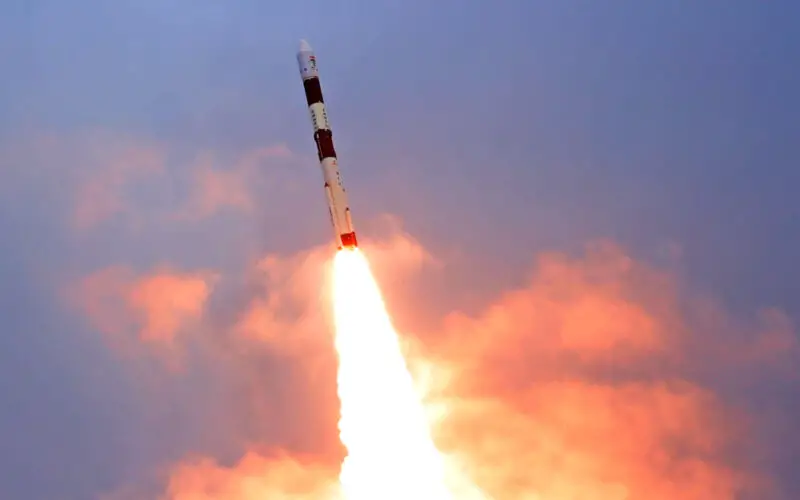 India's Polar Satellite Launch Vehicle (PSLV)-C49 launched from Satish Dhawan Space Centre in Sriharikota on 7th November 2020 at 15:12 hours (3:12 pm IST).
PSLV-C49 rocket carried the all-weather earth imaging satellite EOS-01 from the Indian Space Research Organisation (ISRO) along with nine international satellites. After 15 minutes and 20 seconds, EOS-01 was successfully injected into its orbit. Subsequently, the other 9 satellites were successfully placed in their orbits.
 Nine international satellites are from Lithuania (1), Luxembourg (4), and the USA(4) were launched under a commercial arrangement with NewSpace India Limited (NSIL).
Milestones of PSLV-C49 Launch
76th launch vehicle mission from SDSC SHAR, Sriharikota.
51st flight of PSLV
38th launch from the first launch-pad
2nd flight of PSLV-DL
Honorable Prime Miiter Shri Narendra Modi has congratulated ISRO on Twitter
I congratulate @ISRO and India's space industry for the successful launch of PSLV-C49/EOS-01 Mission today. In the time of COVID-19, our scientists overcame many constraints to meet the deadline.
Union Home Minister of India Shri Amit Shah has also twitted
Congratulations to @ISRO on the successful launch of #PSLVC49 carrying EOS-01 and 9 international satellites from US, Luxembourg and Lithuania. This remarkable feat reflects the commitment and consistency of Team ISRO.

India is proud of our scientists!
What is EOS-01 Satellite?
EOS-01 is an earth observation satellite intended for applications in agriculture, forestry and disaster management support.
The lift-off weight of EOS-01 is 630 KG which will be placed at an altitude of 575 KM in a circular orbit of inclination of 36.9 degrees.
ISRO radar image satellite RISAT-2BR2 was renamed EOS-01. EOS-01 carries an X-band, synthetic-aperture radar (SAR) based all-weather earth imaging satellite built by the ISRO.
It is a part of India's RISAT series of SAR imaging spacecraft and would be the third satellite in the series including RISAT-2B, RISAT-2BR1 with 120° phasing. EOS-01 has been developed at the cost of roughly  ₹125 crore (US$18 million).
The satellite was although earlier scheduled for the first half of 2020, impact of the COVID-19 pandemic in India affected ISRO's activities and delayed a number of programs by months and it was the first launch mission of ISRO in 2020. Due to fears of infections amid pandemic, gathering of staff and media were dismissed for this launch.
About NSIL
NSIL vision is to excel in providing space-related products and services emanating from Indian Space Programme to global customers and to further spur the growth of Indian Industry in undertaking technologically challenging space-related activities.
Also Read –