Drone LiDAR for River Scour Survey
Rivers are constantly changing natural systems, and understanding their dynamics is crucial for effective management and planning. One important aspect of river systems is scoured, which refers to the erosion of riverbed materials due to flowing water. River scour can lead to a range of negative impacts, such as bridge failures, channel instability, and habitat degradation. Traditional methods of surveying river scour are often time-consuming, costly, and may not provide accurate measurements. However, recent advancements in drone-based Light Detection and Ranging (LiDAR) technology has provided a new and efficient approach to river scour survey. In this article, we will explore the use of drone LiDAR for river scour survey, discussing its benefits, and implications for effective river management and planning.
Introduction
The latest technology like Drone LiDAR is effectively useful to understand the level of water, the location of the foundation of bridges, and unwanted mud located beneath the water.  The need for LiDAR sensors with Drone technology is inevitable to provide drinkable water to the residents located in The Pearl River cuts. Because it is situated in a flood zone area of 150 acres and also poses a threat to the drinking water when it reaches the level of flood. The Department of Transportation of Mississippi has this task to Tice engineering, Microdrones, and GeoCue for the area of interest. 
Tice's technical department needs to scan all local infrastructure like buildings, railway assets, and bridges and also cover the foundation level of the bridge. Tice will fly drone lidar from the air, terrestrial scanning on the ground, and hydrographic scanning under the water.
Survey
The survey initially concentrates on to inspect flood zones and bridge scour by deploying a Z- Boat under the water and around the bridge foundations along with mdLiDAR1000HR to scan the entire area from the air.
LiDAR drone survey helped the engineering team to understand the type of infrastructure assets, detailed height of surface assets, understand the level of foundation beneath the water.
Advantage
The mdLiDAR1000HR  is used to perform terrestrial scanning is being performed to fly above the full suite. With this, they can assess the structure of the bridges which are drowned in the flood-prone area. Apart from this they also located the bridge decks, railings, and other infrastructure details. It delivers the elevation trend of uneven and undulating patterns of the land and no need to perform traversing the entire site,
A surface 3D model will be made using the LAS files from the Z-Boat, a terrestrial scanner for the entire area of interest.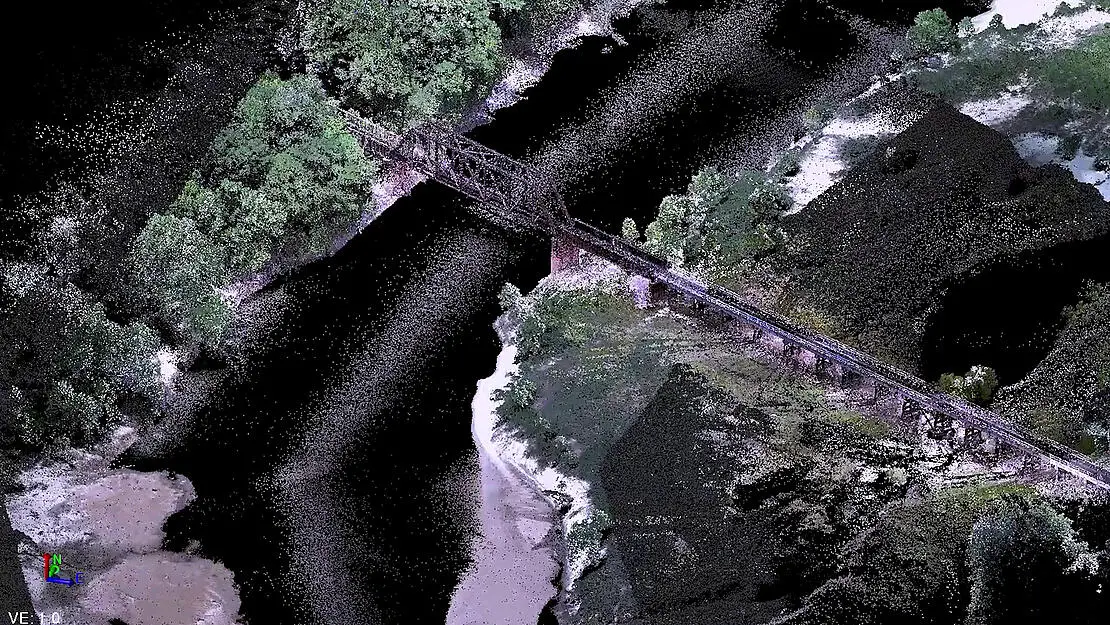 Using this data, they have derived the
results of levels of water at different seasons,
approximate measurement of flood zone area,
Area of high water
Area of low water,
Exposure of ground area in all seasons
This method is a highly cost-effective program for the department of Transportation of Mississippi to save time which is different from the traditional topographic survey
A fully developed three-dimensional model that the DOT can use to create a model and look for river scour."  
Source: Microdrones
---
Also Read –
LiDAR Technology for Monitoring Bridge Structure Defects and Health