Submarine Cable Map of The World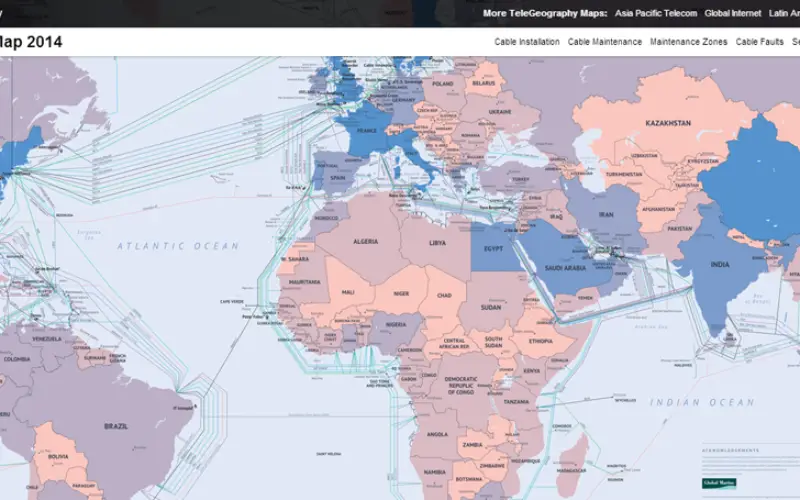 TeleGeography is a telecom firm.
TeleGeography has recently released the updated version 2014 of Submarine Cable Map.
The latest version  of map shows 285 cable systems current in active state or due to enter service by 2015 around the world.  Submarine cables are optical fibers cables lies across the world's ocean floors. These fibers optics cables are the backbone of Internet and International Subscriber Trunk Dialer (ISD) calling services through the world.  This network of cables enables the world to stay connected.
The map depicts routes of 263 in-service and 22 planned undersea cables. Maps shows a good cartography example, each country is colored according to how many international submarine cable system links are connected there. 
The map provides detailed information about cable landing stations in key regions including Hawaii, Southern Florida, New York, New Jersey, Cornwall, Singapore, Hong Kong, Tokyo, and Sydney.
These maps also various other features such as map showing geographically accurate submarine cable paths, maps with diagrams highlighting the various parts of a submarine cable system, including a submarine cable cross section and maps with seabed profiles showing trans-Atlantic and trans-Pacific cable route.
These also include several info-graphics that provide data on cable faults and repairs.
TeleGeography  also has interactive online version of the Submarine Cable Map. TeleGeography's free interactive Submarine Cable Map is based on our authoritative Global Bandwidth research, and depicts active and planned submarine cable systems and their landing stations.These maps have various features such as:
View a list of all cables connected to a specific country—enter "Connected to" and the country name in the search box (for example, "Connected to Australia").
View a list of all cables connected to a specific landing point—select the landing point on the map, or navigate to a cable's profile and select one of its hyperlinked landing points.
View a list of all cables that came online in a specific year—enter "Ready for service in" and the year in the search box (for example, "Ready for service in 1999"), or navigate to a cable's profile and select its hyperlinked RFS date.
Share data from the map. To share the URL of a cable's profile, navigate to it and copy the URL from your browser. The URLs of country, landing point, and RFS searches are also shareable.
Source: Telegraphy