SuperGIS Server Extends Map Possibilities with Various Resources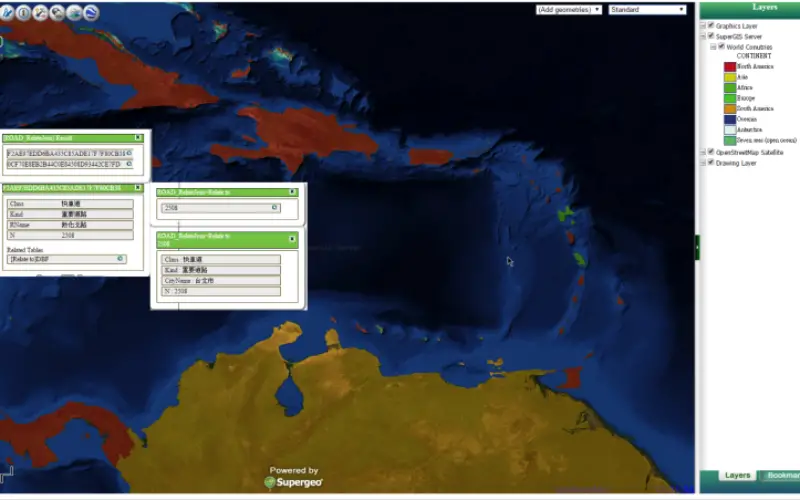 This week, Supergeo releases the latest version of SuperGIS Server with plenty of new functions, including related tables, improved JavaScript print tool, and new JavaScript APIs supporting OGC layers. With these new functions, users are able to publish web maps featuring more information, and integrate rich OGC resources with their maps.
In the real world, people may separately store data with tables that are somehow intertwined with each other. When these data tables are related to each other, users can understand more about the geographic phenomenon. For example, by relating location data of weather stations to the annual temperature values, users will be able to track and visualize environmental change and comprehend more about global warming.
In addition to related tables, the latest SuperGIS Server also supports the integration of OGC layers like WMS, WMTS, and KML. In the era of data sharing, many resources are published online, so augmenting the integration of open resources helps users quickly create meaningful maps. The latest SuperGIS Server enables users to add these OGC layers to their Ultra web maps employing JavaScript APIs to effortlessly create more and more professional maps.
Fancy a trial? Register and download SuperGIS Server for a one-month trial at:http://www.supergeotek.com/download_6_server.aspx.
New to SuperGIS Server? Watch the video to get started: https://www.youtube.com/watch?v=5VaX4pEO8zw.
Want to learn more about JavaScript APIs? Go to SGDN and learn by samples:
http://sgdn.supergeotek.com/supergis_server_api_JavaScript.aspx
About Supergeo
Supergeo Technologies Inc. is a leading global provider of GIS software and solutions. Since the establishment, Supergeo has been dedicated to providing state-of-the-art geospatial technologies and comprehensive services for customers around the world. It is our vision to help users utilize geospatial technologies to create a better world.
Supergeo software and applications have been spread over the world to be the backbone of the world's mapping and spatial analysis. Supergeo is the professional GIS vendor, providing GIS-related users with complete GIS solutions for desktop, mobile, server, and Internet platforms.