Trimble TDC100 Handheld GNSS Data Collector Combines Smartphone-Like User Experience with Professional-Grade Capabilities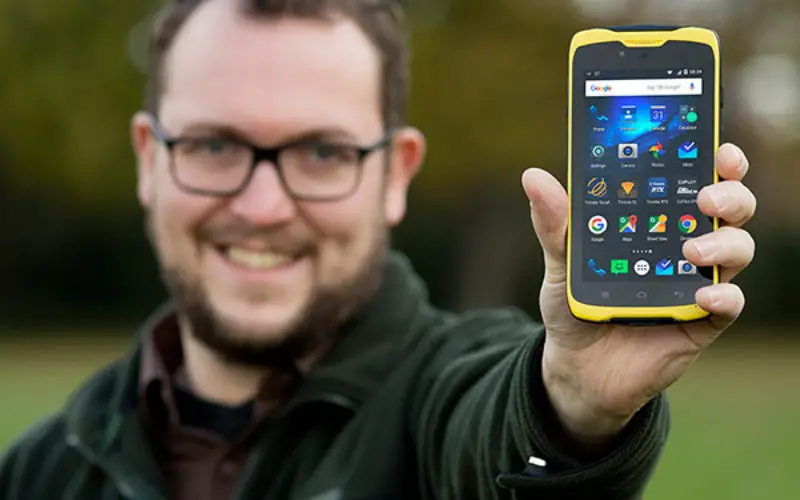 Ruggedized and Highly Accurate Data Collection for GIS Professionals
SAN DIEGO, Calif., June 28, 2016—Trimble (NASDAQ: TRMB) introduced today its Trimble® TDC100 handheld data collector. An entry-level Global Navigation Satellite System (GNSS) device for a variety of Geographic Information System (GIS) applications, the Trimble TDC100 combines both smartphone and ruggedized data collection capabilities in a single, mobile device. The Android-based TDC100 is flexible and can run commercially available or in-house developed applications on a professional, IP-67 ruggedized platform with a sunlight readable display and user replaceable batteries. The built-in GNSS receiver also provides real-time accuracy.
The announcement was made at the Esri User Conference.
The Trimble TDC100 is available in two models for the budget-conscious GIS professional. Both models are available with an Android operating system and Wi-Fi, with an optional 4G LTE cellular version. Outfitted with a bright, high-resolution 5.3 inch display, an 8 MP (Wi-Fi model) or 13 MP (4G LTE model) camera, and Li-Ion batteries in standard (3100mAh) or enhanced (4800mAh) capacity, the TDC100 supports GPS, GLONASS and BeiDou as well as Satellite-Based Augmentation System (SBAS) capabilities to leverage improved real-time accuracy.
"GIS professionals using GNSS handheld devices for a wide range of data collection applications are expressing a desire for smartphone like capabilities in a built-to-last form factor," said Ron Bisio, vice president of Trimble's Geospatial Division. "We believe the TDC100 will be a workhorse. It has been designed for mobile workers who need a functional field computer that is tougher than a consumer-grade device, while providing easy-to-use features and convenience that people have come to expect. Users can collect and retrieve highly accurate spatial data anytime, and from virtually any place, while remaining in touch with the office—with a single device."
Availability
About Trimble's Geospatial Division
Trimble's Geospatial Division provides solutions that facilitate high-quality, productive workflows and information exchange, driving value for a global and diverse customer base of surveyors, engineering and GIS service companies, governments, utilities and transportation authorities. Trimble's innovative technologies include integrated sensors, field applications, real-time communications and office software for processing, modeling and data analytics. Using Trimble solutions, organizations can capture the most accurate spatial data and transform it into intelligence to deliver increased productivity and improved decision-making. Whether enabling more efficient use of natural resources or enhancing the performance and lifecycle of civil infrastructure, timely and reliable geospatial information is at the core of Trimble's solutions to transform the way work is done. For more information, visit:  https://www.trimble.com/Industries/Geospatial/index.aspx.
About Trimble
Trimble is transforming the way the world works by delivering products and services that connect the physical and digital worlds. Core technologies in positioning, modeling, connectivity and data analytics enable customers to improve productivity, quality, safety and sustainability. From purpose built products to enterprise lifecycle solutions, Trimble software, hardware and services are transforming a broad range of industries such as agriculture, construction, geospatial and transportation and logistics.