USGS Developed High-Resolution Imagery of Coastal Wetlands to Identify Vulnerable Marshes across the US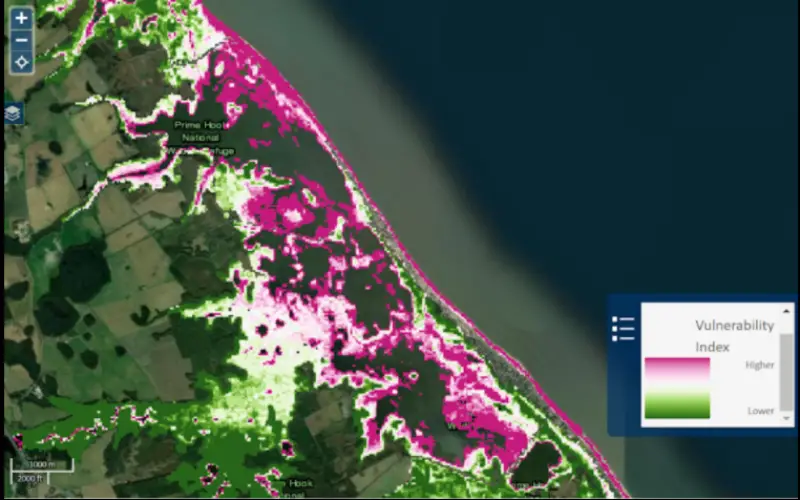 Scientists at U.S. Geological Survey (USGS) have developed a new technology and made available a new mapping resource to identify vulnerable marshes across the US. Scientist have used a combination of remote sensing and satellite technologies. 
These maps give crucial information to land managers and aid in the development of marsh conservation and restoration programmes without the need for costly and time-consuming site-specific studies.
According to the USGS, marsh resilience can be assessed by measuring the ratio of Unvegetated to Vegetated area over a whole marsh system. A marsh system includes marsh plains, channels, ponds, and intertidal flats. The method is known as the UVVR (UnVegetated-Vegetated marsh Ratio).
UVVR calculates how much of an individual marsh is open water and how much marsh plants cover it using data collected from 2014 to 2018 using remote sensing techniques such as satellite imaging and aerial photography. Land managers can decide which marshes have the highest chance of surviving in the face of changing conditions by analysing the ratio of ponds, channels, and tidal flats to marsh vegetation.
Salt marshes are among the world's most productive and valuable ecosystems. The vegetation in these coastal systems works as a natural buffer between land and sea, protecting infrastructure along the shoreline in a variety of situations. Among other things, salt marshes provide crucial feeding, refuge, and nursery habitat for commercially and recreationally important species. Salt marshes must persist and expand to counteract the effects of sea-level rise and storms that physically erode them in order to continue providing these numerous services.
The new data products complement the detailed mapping provided by the USFWS's National Wetland Inventory programme by allowing comparison of vulnerability between wetland types distinguished by the NWI. The UVVR national map can also be used in conjunction with the Coastal National Elevation Database to generate national estimates of marsh lifespan under various sea-level rise scenarios.
The UVVR data can be accessed through the USGS Coastal Change Hazards Portal under the Sea Level Rise theme (salt marsh vulnerability) and includes regional and national assessments. The nationwide UVVR data is also available to download in Science Base.  
Source – USGS
Also Read –