Webinar Series: DEM Extraction from SAR Imagery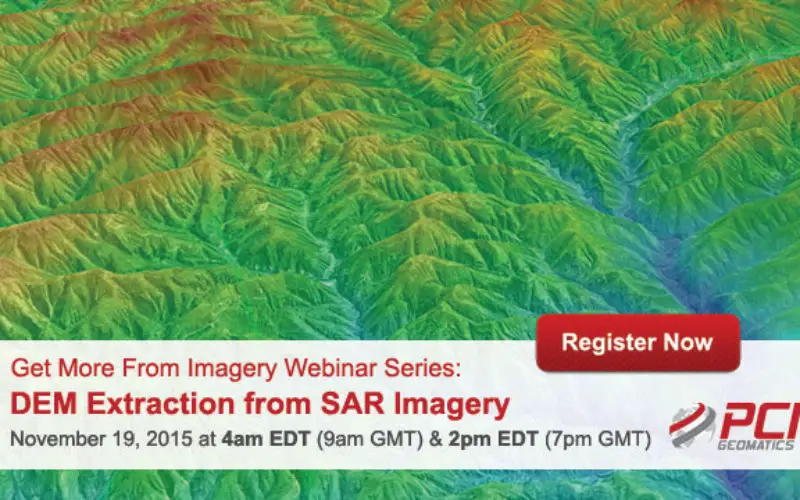 Get More From Imagery Webinar Series: DEM Extraction from SAR Imagery
Nov. 19, 2015 at 4am EDT (9am GMT) | Nov. 19, 2015 at 2pm EDT (7pm GMT)
PCI Geomatics is the developer of Geomatica- a complete and integrated desktop software that features tools for remote sensing, digital photogrammetry, geospatial analysis, map production, mosaicking and more. Geomatica software enables users to apply imagery in support of a wide range of applications such as the environment, agriculture, security and intelligence, defense, as well as in the oil and gas industries.
Webinar Description:
Learn best practices for extracting DEMs from Synthetic Aperture Radar (SAR) imagery using Geomatica and commercially available imagery from RADARSAT-2 and other sensors. The focus of this webinar will be on a case study done over Santorini, Greece.
What You'll Learn:
In this 30min webinar, PCI Geomatics experts will demonstrate:
Data collection considerations (incidence angles, resolution)
New, fast DEM extraction tools for SAR imagery
Time series automated DEM Change detection
Interactive DEM Editing tools and filtering capability
How using a SAR derived DEM provides higher quality ortho-images
Quality Assessment of DEMs
Speaker
Jean-Sébastien Bouffard
PCI Geomatics Technical Solutions Specialist