Intermap and TATA Communications Signed Agreement for 5G Network
Intermap Technologies, a global leader in geospatial intelligence solutions has announced strategic agreement with TATA Communications, a global telecom leader connecting 80% of the world's mobile subscribers in over 200 countries.
Intermap will initially support TATA's expansion of its 5G network in selected Indian cities. Intermap's turnkey and customizable products make the world's best 3D geospatial data accessible to non-expert users. They are scalable and sufficiently flexible to help address TATA's vast global ecosystem of geospatial requirements.
The agreement is further expansion of Intermap into Asian infrastructure markets, with TATA Communications as its first commercial client in India, as well as continued work in the Middle East for a new public infrastructure client in Saudi Arabia.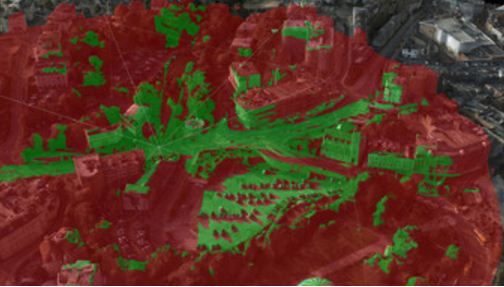 Both companies also agrees on conducting site analysis and project feasibility in the Middle East. This contract, covering several thousand square kilometers in Saudi Arabia, enables a construction project for energy-related infrastructure including power transmission.
Intermap's elevation data-as-a-service (EDaaS) solution for telecom network and real estate site planning improves efficiency and lowers costs for companies that operate on a national or even global scale. EDaaS provides high-resolution, multi-source datasets through APIs and other web services that are linked with existing applications and workflows and provide fast and precise answers for geo-locations over the world, available instantly and with exceptionally high global precision.
These contracts represent Intermap's rapid entry into larger commercial markets in Asia and the Middle East, leveraging the Company's progress and lessons learned in the United States. The Indian commercial geospatial market, in particular, is one of the world's largest, yet most underserved. Beyond telecom, Intermap's high-resolution 3D datasets for India can serve insurance and aviation applications.
The 5G network will operate on very high frequencies. These high frequencies ranges from cmWave and mmWave signals, are more sensitive to obstruction either manmade or natural such as buildings and tress. The accurate 3D data (such as Digital Surface Models (DSM)), can be used to identify the best locations for the antennas to optimize network performance, thus minimum interference to 5G network signals.
In an environment where Intermap's U.S. government prime contractor partners have retrenched due to the pandemic, delaying government revenue, Intermap's commercial business is proving resilient, now with over 80 EDaaS customers, almost half of which have signed subscriptions. Year-to-date, approximately 57% of Intermap's commercial sales have been subscription-based.
Source – Intermap
Also Read –