iOS Mapping Solution, SuperSurv, Enhances Raster Data Support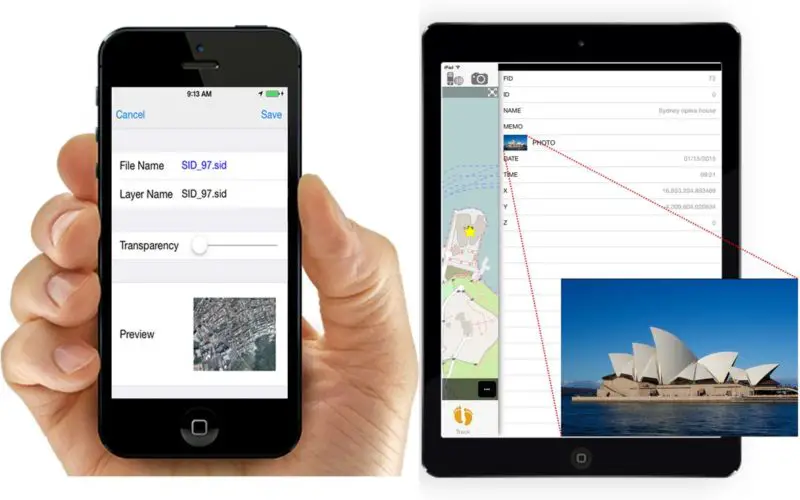 Supergeo releases the latest update of SuperSurv 3.2 (iOS) to enhance the functionality and efficiency for mobile GIS surveyors. Having stronger compatibility with raster dataset and convenient tools for data display, collection and query, SuperSurv 3.2 (iOS) helps users to conduct field work with ease and more productivity.
SuperSurv is an efficient mobile GIS App designed for field data collection on iOS and Android powered platforms. Integrating with GIS and GPS technologies, SuperSurv provides the functions like Map Display, Query, Measure, etc., and supports to overlay OpenStreetMap as the basemap. Users can also capture point, line and polygon features and attribute data, and save the data as SHP or GEO format in both offline and online modes.
The latest SuperSurv 3.2 (iOS) directly supports raster dataset, MrSID and JPEG 2000, as basemap, and increases the capability to load various raster files within one project. As for map display, OpenStreetMap auto-scaling function is now offered by using the current position as a reasonable range, bringing more efficient usage of online map projects.
 The newly developed function, Screen Lock, will be applied automatically while users start collecting data via GPS, helping field workers prevent unintentional mistakes during operation. Moreover, the renewed previewing, importing as well as querying functions of multimedia will also provide users with smoother user experience.
Feel free to experience the cutting-edge GIS App, SuperSurv
App Store: https://itunes.apple.com/us/app/supersurv/id734191604?mt=8
Google Play: https://play.google.com/store/apps/details?id=com.supergeo.asd.supersurv_lite.SuperSurv
SuperSurv on Field: https://www.youtube.com/watch?v=CvMMUDaYxNg
 #  #  #
About Supergeo
Supergeo Technologies Inc. is a leading global provider of GIS software and solutions. Since the establishment, Supergeo has been dedicated to providing state-of-the-art geospatial technologies and comprehensive services for customers around the world. It is our vision to help users utilize geospatial technologies to create a better world.
Supergeo software and applications have been spread over the world to be the backbone of the world's mapping and spatial analysis. Supergeo is the professional GIS vendor, providing GIS-related users with complete GIS solutions for desktop, mobile, server, and Internet platforms.
Marketing Contact:
Patty Chen
Supergeo Technologies Inc.
5F, No. 71, Sec. 1, Zhouzi St., Taipei, 114, TAIWAN
TEL:+886-2-2659 1899
Website: http://www.supergeotek.com
Email: patty@supergeotek.com