ISRO Empowering Panchayati Raj Institutions using Bhuvan Panchayats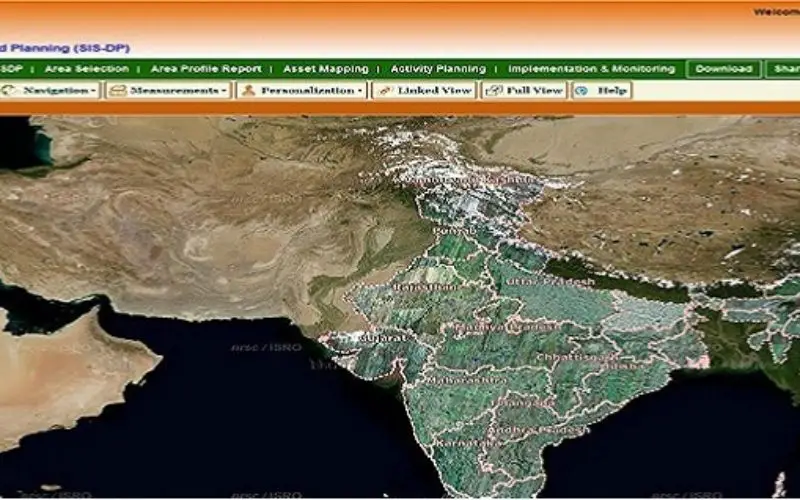 Bhuvan Panchayats Portal plays an important role to disseminate the deliverables of the project including High Resolution Satellite Imagery and Resource Maps at 1: 10,000 scale, to the three levels of the Panchayat Raj Institutions and the Citizens of the country. Besides Geo-Visualization, Bhuvan Panchayat Portal acts as an enabling environment for Asset Mapping, Activity Planning, Implementation & Monitoring of the Activities, Sharing Views and to Download Area Profile Report & Maps of the Selected Area, up to Panchayat Level.
National Remote Sensing Centre (NRSC), ISRO has formulated a project "Space based Information Support for Decentralized Planning (SIS-DP)" which is being implemented in partnership with State Remote Sensing Application Centres in the country. The goal of the SIS-DP project is to empower the Panchayati Raj Institutions (PRIs) and the Stakeholders with Space Based Information Support for Decentralized Planning and Governance in the country.
The concept of Decentralized Planning is the pillar for consistent and planned development of rural and urban areas. The decentralized planning approach has provided the much needed constitutional legitimacy to local governance institutions, defined their functional domains and provided financial devolution to these institutions.
Indian Constitution mandates the preparation of plans for economic development and social justice by Panchayat Raj Institutions (Article 243G) and Urban Local Bodies (Article 243W). The 74 amendment also mandated the establishment of District Planning Committee (DPC) as the formal body (Article 243-ZD) for preparation of the District Development Plan by consolidating and integrating rural and urban plans.
In short District Planning Committee plays an anchoring role between Panchayats and Urban Local Bodies. Beside this, District Planning Committee provide the common platform for integrating rural and urban plans; identify planning projects of common interest, spread across both rural and urban areas, which can be jointly planned and funded.
The needs to empower citizens using decentralized planning and governance are:
Single window source of all datasets in spatial formats to Panchayati Raj Institutions and Stakeholders.
Web based interface for mapping of the available assets, planning of activities, implementation and monitoring.
Capacity building of Panchayati Raj Institutions and Stakeholders.
Remote Sensing and GIS technologies are capable of creating various resource information layers in the shortest possible time along with regular updates. The spatio-temporal data provided by satellite imagery offers technologically the most appropriate method for quick and reliable mapping and monitoring of various natural resources both in space and time domain. Observations of the Earth system constitute critical input for advance understanding towards local planning by providing information, measurements and quantifications of natural or artificial phenomena.
The objective of Space based Information Support for Decentralized Planning (SIS-DP) is to build up a spatial and non-spatial database at Gram Panchayats level for the entire country. The data sets will be utilized at various levels to enable an environment for Panchayati Raj Institutions. In detail the three major objectives are:
To generate and provide 'Satellite Image Maps' for the entire country as base for decentralized planning. (High resolution, true color, Ortho-rectified, merged satellite data products)
To prepare thematic & base layers on 1:10000 scale using 'Satellite Image Maps', slope classes maps and cadastral maps vectorization & geo-referencing
To create databank: comprising of 'Satellite Image Maps', thematic and base maps, slope class maps; and organize census data, climate data, cadastral maps, stakeholder's data and available legacy thematic & base data on GIS platform.
To develop comprehensive web portal as per PRIs & stakeholders needs for decentralized planning, governance, outreach to the citizens and data dissemination.
To build Capacity of PRIs & stakeholders for the use of Space Based Information in Decentralized planning and governance.
The outputs of SIS-DP project; Satellite image maps and thematic maps on 1:10k scale generated for the first time in the country, have great potential in meeting the current requirements and opportunities for spatial, participatory, integrated decentralised planning in the country.
To visit Bhuvan Panchayats: http://www.nrsc.gov.in/Programmes_sisdp.html