Crop and Soil Mapping Boosts Potential for Increased Yields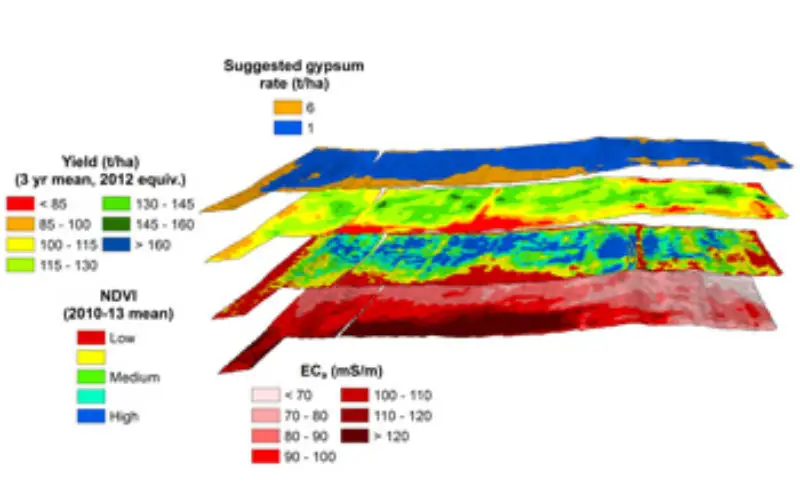 A research project started at 2008 by Sugar Research Australia (SRA) with additional support from QDAFF, the collaborative project brings together research expertise from CSIRO, the University of Southern Queensland's National Centre for Engineering in Agriculture (NCEA) and SRA to increase the yields of sugarcane and helps to farmers to identify low-yielding.
The second phase of the project is headed by NCEA's Dr Troy Jensen, and has two trial plots, one in the Burdekin and one at Bundaberg, covering 52 hectares in total.
It has incorporated elements of Precision Agriculture (PA) by marrying data about soil gathered prior to cane emergence, satellite imagery collected during the growing season, and production measurements from a prototype yield monitor at harvest time.
Dr Jensen said, "Our yield monitor can record information at two or three-second intervals in the field from a number of sources and we're developing a tool to interrogate the data so that we can have confidence in it."
Individual maps were prepared and stacked into a composite image which colour-codes the field into bands and patches according to the various layers, using Geographic Information System (GIS) software package.
"From this information, growers can see areas where yields are lower and ask themselves what's constraining their production, and if there is anything they can do about it."
"It allows the farmer to identify yield potential over much of the paddock, and also identify the problem areas."
Poor yields in pockets of a field which has otherwise produced at least average tonnes of cane per hectare can be caused by factors including waterlogging, weeds, grubs or soil problems such as acidity, sodicity or salinity.
"You can't look at yield data in isolation, but when you put it with an EM map and a satellite image, it can allow growers to come up with the likely candidates for what's driving problems in low-yielding areas."
Dr Jensen said soil testing in low-yielding areas was likely to help growers pinpoint the reason behind low yields.
"In an inputs-versus-yield scenario, this could prove to be a more cost-effective method than testing soil from several random locations across the paddock and applying a treatment which is unnecessarily high in unaffected areas and insufficient in the problem ones," he said
"Growers could then look at confirming their prognosis with an agronomist and discuss some steps they could take, such as ameliorating the soil, changing varieties, or using different plant spacings.
"Growers then need to ask themselves if it is economical to take that next step and do something to rectify the problem".
"Those lower-yielding areas might be lighter country which may not be able to produce more cane, no matter what you do."
Dr Jensen said in fields where it was possible to vary fertilizer and irrigation rates, the information made available through yield mapping could be used to ensure cane was not over or under-fed or watered.
One scenario which yield-monitoring maps may throw up is altering gypsum application from a standard 3.5 tonnes per hectare, to a targeted 6t/ha on sodic areas and a maintenance application of 1 t/ha to the remainder.
Without taking into consideration the additional benefit due to the yield response to gypsum, this translates to an increase in profit of $330/ha.
Dr Jensen said he would like to see further research funding go towards monitoring not just tonnes of cane harvested per area, but also sugar content per area.
"The billets can be different lengths and diameters and it makes the Holy Grail of production — quality and quantity — much harder to gauge in cane than in, for example, grain."
Dr Jensen said the project is looking at establishing an additional trial site in NSW, where harvesters are fitted with some monitoring equipment to help mills estimate cane supply.
– University of Southern Queensland