Kochi Metro Rail Completes LiDAR Survey for Kochi Water Metro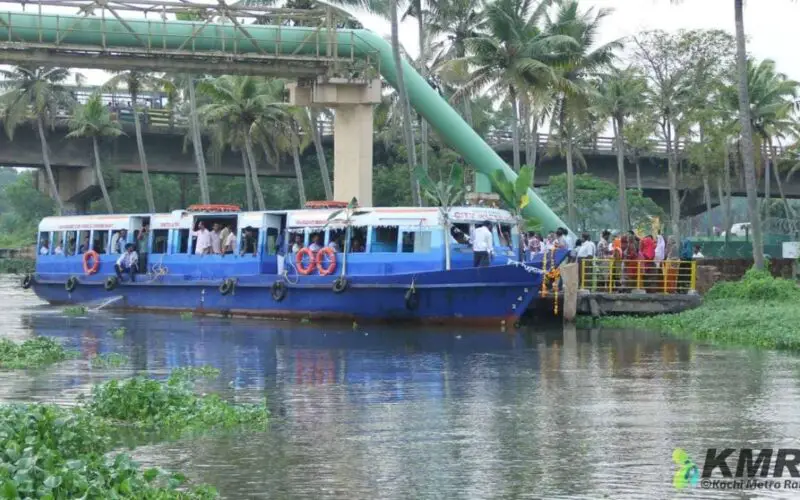 Kochi, the commercial capital of Kerala is the second-largest city along India's western coastline, after Mumbai. The backwaters network of brackish lagoons and lakes lying parallel to the Arabian Sea coast (known as the Malabar Coast), as well as interconnected canals, rivers, and inlets, has tremendous opportunity to utilize as waterways in Kochi.
Kochi is blessed with waterways with over 1,100kms of waterways available. However, only 40kms out of these are considered navigable for motor-boats since, as per the Inland Waterways Authority of India (IWAI) regulations. The regulation says that the waterway must have a mandatory minimum depth of 2m for their operations.
The project "Integrated Water Transport System for the City of Kochi" has a total value of 819 crores. As a part of the Kochi Water Metro project, 15 routes have been identified. There will be Navigational buoys and night navigational assistance throughout the routes.
Recently as per the news by The Hindu, the Kochi Metro Rail Limited (KMRL) has completed all major surveys for the project which aims to regenerate canals in Kochi. A part of the project was awarded Netherlands based firm Andrea Nederland BV and was tasked to develop the concept, master planning, and detailed design.
KMRL is reviving six major canals in the city, Edappally Canal, Chilavanoor canal, Thevara-Perandoor canal, Thevara canal, Market canal and Konthuruthy canal.
An advanced LiDAR survey has been completed to prepare a detailed topographic map, a bathymetric survey, and to map the sub drains, which join the canals. Data has been collected for the study of Social Impact Assessment, and water quality studies.
Geotechnical bore-hole investigation at 56 identified locations for understanding the soil characteristics and lithology along the canals is nearing completion. The major portion of floodplain analysis and water-balancing studies is being done in the Netherlands and the same is expected to be completed by the end of this month.
Once the canals are made navigable, it will be linked to the upcoming Kochi Water Metro project of the KMRL. KMRL also envisages to develop water sports facilities, sports complex, etc, it states.
It is believed the Kochi Water Metro will reduce carbon emission footprint (as boats will be electrically powered), traffic decongestion on the roads, and improved transport services. It is also believed that it improves livelihoods through commercial property development, tourism-based initiatives, and new job opportunities.
The Kochi Water Metro Project intends to introduce modern, energy-efficient, environment-friendly, and safe boats with low wake and draft characteristics at a high frequency to increase ridership. The project will also take the cognition of water weed and floating waste management.
Also Read –
Saving India's Vanishing Water Bodies