WebMap: Hood River County Releases New GIS Mapping Tool
Hood River County Geographic Information Services (GIS) Department has recently launched unveil a beta version of its interactive online WebMap application.
The Hood River County Webmap application and its underlying digital data were prepared for use by the County of Hood River for its internal purposes only, and was not designed or intended for general use by members of the public. Any user of this product should obtain Independent verification of all data contained within this digital product.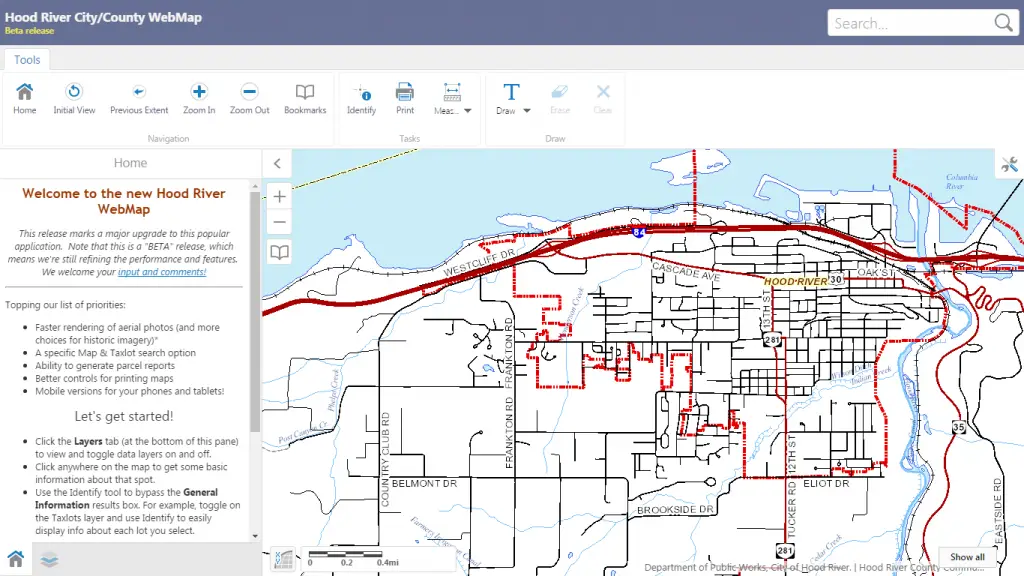 The WebMap is a tool that's widely used by the community to answer basic questions related to property, land use or particular geographic places of interest in the county. Over the years, the popularity of WebMap has grown. In 2016, it has received over 33,000 visits.
The upgraded WebMap is fully compatible with all popular browsers and we'll soon have a version for mobile devices. The new tool will improve the system, removing several compatibility and navigation issues.
The new WebMap application will include:
Better browser compatibility and options for mobile devices.
More intuitive or simpler public use.
More features and tools.
Ability to use 2016 aerial photography, as well as other historical imagery.
Significant cost savings resulting from a partnership with the City of Hood River.
The county is using a product the City of Hood River recently implemented. Latitude Geographics, the company that develops the software used by the city, has thousands of implementations throughout North America.
Click to visit County WebMap application
Source: Hood River News