European Council on Foreign Relations has Conducted Mapping of Libya's Regional and Armed Fractions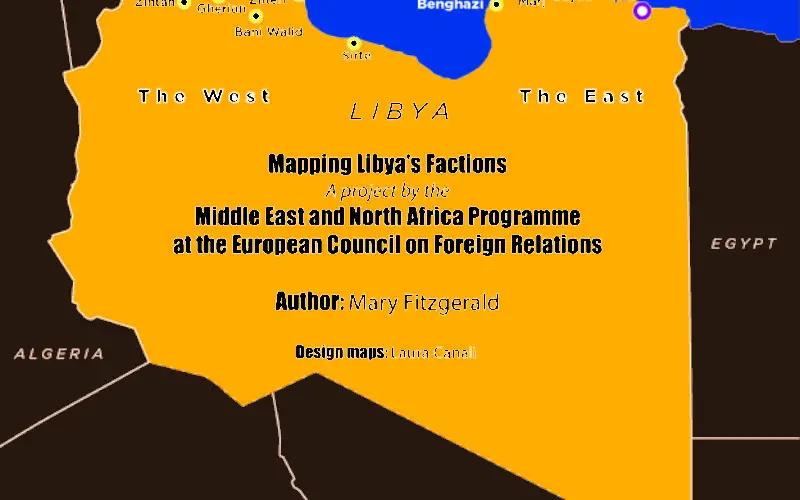 Protests in Libya began on 15 February, 2011 in front of Benghazi's police headquarters following the arrest of a human rights attorney who represented the "relatives of more than 1,000 prisoners allegedly massacred by security forces in Tripoli's Abu Salim jail in 1996."
The protests spread across the country, regional powers and dozens of different armed groups evolved. With various interventions by two broad coalitions, each claiming its own government legitimacy makes the complication too difficult to understand and solve.
With rapid advancements in positions of various fractions in Libya and its proximity to European countries (350 KM south of Malta and Itlay), European Council on Foreign Relations (ECFR) has conducted a mapping exercise of the different political and armed groups in Libya.
Mr. Mary Fitzgerald, is an author, journalist and analyst has spent many years in Libya. His work "Mapping Libya's factions" focuses on the politicos and the militias that are more involved in the fighting that started in May 2014.
While this mapping exercise was underway, the Islamic State set up its first bases in Libya, starting with the eastern city of Derna and then quickly spreading as far as Tripoli in the west. With the first big attack in the capital, on 27 January against the Corinthia Hotel, the Islamic State attracted Western attention to Libya.
Growing presence of militants (jihadists) in Europe's neighbours is a big concern for EU. The jihadists and Libyan civil war must be end in peaceful under the banner of UN led political dialogues and directives.
The mapping of militants and other disruptive powers in Libya could be an important resource for better understanding of spatial advancements of fractions.