Making a Giant Leap Toward Smart Irrigation with SuperGIS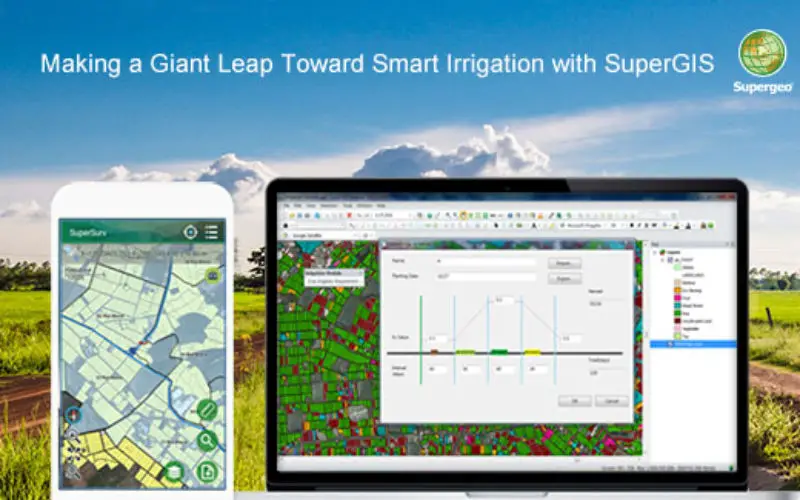 Geographic Information System (GIS) is becoming extremely popular nowadays for its capability of solving problems in the domains like cadastre management, network analysis, location selection, spatial statistics, etc. to name just a few. Without a doubt, GIS has great potential for any kinds of analysis focusing on discover spatial relationships. As the global population increases rapidly, governments worldwide are all concerned about issues of land use and crop supply. Therefore, to improve the crop yield under limited resources effectively turns out to be the common vision of agriculture in different countries.
Recently, Supergeo, the global GIS software provider, makes continuing efforts to cooperate with experts from different industries, aiming to propose professional solutions that can improve the quality of decision-making and the overall productivity. Since this September, Supergeo has worked together with two well-known organizations in agricultural technology— Agricultural Engineering Research Center (AERC) and Taiwan Agricultural Irrigation Association (TAIA) to develop a smart irrigation GIS solution. The finished GIS module is expected to benefit thousands of farmers and farm managers by producing more crops with fewer resources.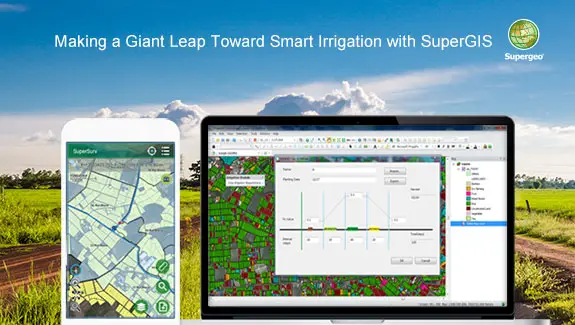 In this November, a new SuperGIS Desktop 10 module for smart irrigation will be released. With this module, users can accurately estimate the crops water requirement in every parcel of farmlands. Under the guidance of AERC and TAIA, this module uses the Hargreaves Equation and crop coefficients provided by FAO to calculate the water requirement for irrigation. When operating this module, users just need to acquire the farmland data, climate data, and crop coefficients. Through simple steps, users can know the water requirement of each land parcel. After data processing, you can publish your results as web map services by using SuperGIS Server, which enables field technicians to check the irrigation conditions and edit data with SuperSurv on their Android devices. Consequently, with the help of this irrigation module, the labor costs and time costs will both be reduced largely. This extraordinary SuperGIS Desktop Extension marks Supergeo's giant leap towards the smart agriculture and sustainable farming.
This irrigation solution is suitable for all departments related to agricultural irrigation. No matter managers, analysts, or field technicians will all find it useful for them to enhance the efficiency at work significantly.
Please contact us to try SuperGIS Irrigation Analyst for free!
staff@supergeotek.com