Odisha Coastlines Loses Its Shine Due To Past 10 Cyclones in 12 Years
Sea erosion has been witnessed along the Odisha coastlines due to frequent topical cyclones and floods. The intensity of devastation is witnessed in six coastal districts Balasore, Bhadrak, Ganjam, Jagatsinghpur, Kendrapara, and Puri. According to official data, out of about 480 km of Odisha's coastline, 267 km has witnessed sea erosion or accretion.
DGPS Survey and Satellite Imagery
A detailed DGPS survey conducted by Odisha Space Application Centre (ORSAC) based on 2006-2018 satellite images on coastal areas spreading over 3,555 sq. km. The survey found that 2,489 hectares of land in the six coastal districts faced erosion, while there was accretion in 1,582 hectares of land on the shoreline.
Affected Districts
Among all districts, the highest 1,058-hectare land in Kendrapara district witnessed accretion and erosion, followed by Balasore district (920 ha), Jagatsinghpur (679 ha), Bhadrak (543 ha), Puri (540 ha) and Ganjam (327 ha).
Kendrapara district is the worst affected by sea erosion in Odisha as 16 villages of the district had already been submerged in seawater, and 247 people faced displacement due to the rise in sea level. A few villages like Podampetta and Ramayapatna villages of Ganjam district had already been displaced due to a rise in sea level.
Paradip port area of Jagatsinghpur, the bank of Jamuna, the beach areas of Puri, and the northern part of Gopalpur port, north of Bahuda river in Ganjam have witnessed coastal erosion. The state government initiates the integrated Coastal zone management plan.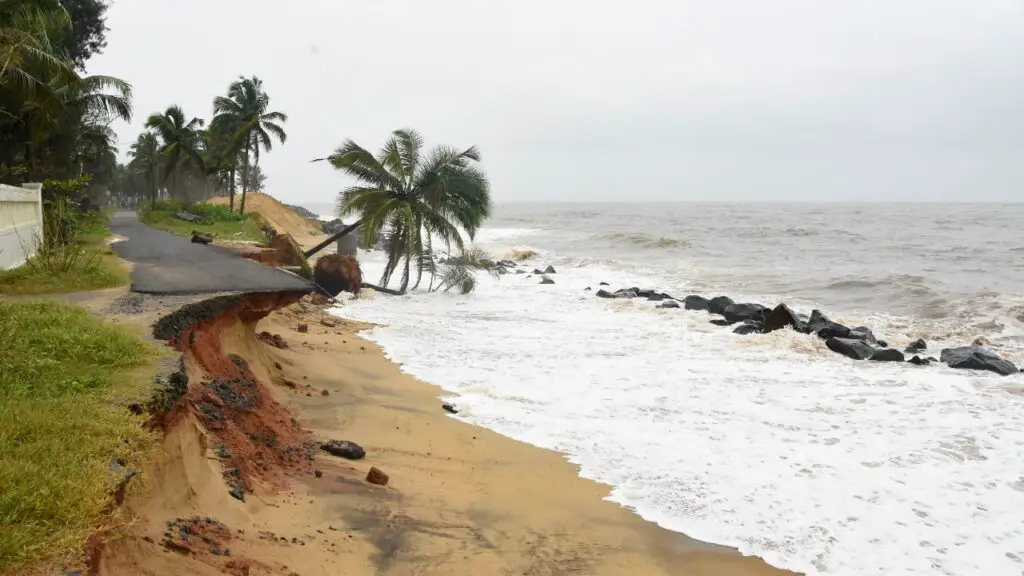 Proactive Measures to Mitigate Risk
Increasing mangrove plantations, taking care of reverse, and implementing new technologies to arrest Coastal erosion are a few remedial measures. Rehabilitation of locals is highly essential by taking climate finance from the central government along with the state government. As a part of initiatives, the state government has constructed a geotextile wall along 505 meters of the shoreline near Pentha beach of Kendrapara. There are 11 departments in this state which are collectively taking decisions to mitigate the coastal erosion risk
The creation of new forests using scientific methods, reducing the usage of water in agriculture, and imposing changes in building construction codes are key activities to control the devastation.
Other steps, such as rainwater harvesting, emphasis on greening buffer areas of industries, bringing down pollution, and introducing public transport in all corners of the state.
Source: Weather.com
---
Also Read –
National Shoreline Change Assessment Mapping for Indian Coast