Scientists Develop Air-pollution Warning Software Using Satellite Images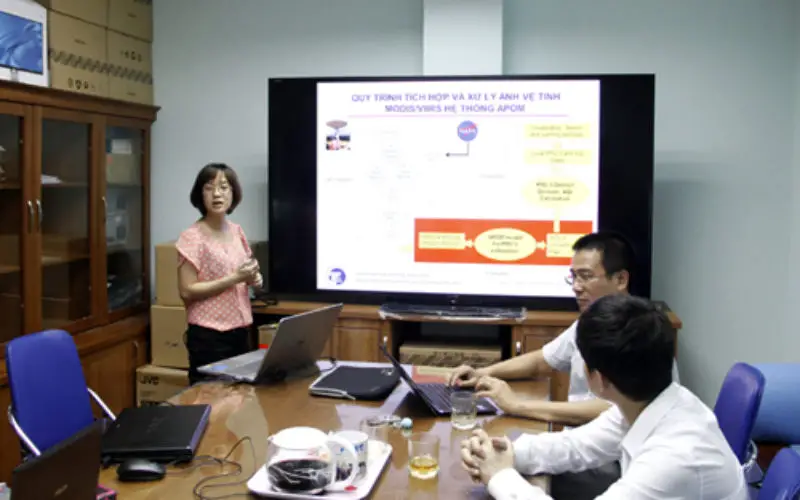 Vietnam – According to recent news by the VietNamNet Bridge, Scientists from the Hanoi University of Engineering & Technology, a member school of Hanoi National University, have invented an air pollution warning system by using satellite images.

The APOM (air pollution management) system is management software integrated with Google and run on apom.fimo.edu.vn. The program uses WebGIS database which can provide information about pollution levels, indices about dust pollution, and density of fine dust in the air in each area. The information is shown on a map of Vietnam.
Utilizing the technology on collecting and processing remote sensing satellite images, this is the first research work in Vietnam that uses satellite imagery to give air pollution warnings.
According to vietnamscience.vn, the system has several advantages. First, working online, it automatically collects and processes image data from remote sensing satellites Terra MODIS, Aqua MODIS and Suomi NPP VIIRS of NASA and the satellite receiving station of UET installed by eOsphere Limited, UK.
Second, it calculates the PM2.5 parameter (concentration of dust with size <2.5 micrometers in the air) for the entire territory of Vietnam, spatial resolution 10×10 km with a frequency of 4 times/day (based on Terra/Aqua MODIS image processing) and 6×6 km at 2 times/day (based on NPP VIIRS image processing).
Third, it applies the formula of transformation from PM2.5 to air quality index (AQI) according to Vietnam standards and international standards. Through separating data for 63 provinces/cities, the system supplies an image source of PM2.5 dust, AQI for the entire territory of Vietnam and provinces/cities from 2010 to present.