Sri Lanka Setting Up National Spatial Data Infrastructure for Development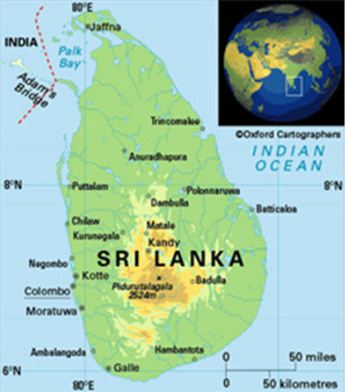 According to recent news, Sri Lanka's Survey Department is setting up national spatial data infrastructure where spatial or location-based information can be better used and shared by both the government and businesses.
Geospatial or location-based data can be combined with broader information assets to serve the needs of the government, businesses and citizens in applications like the type of vegetation or rainfall in a given area, or elevation data of terrain and topographic maps, according to the Survey Department.
Building national spatial data infrastructure is aimed at making the information widely available to a growing body of users for development work and commercial applications.
The department is developing spatial data products that can be used with a range of applications covering the whole country to support planning, development and land registration activities.
Remote sensing is a useful tool for national development, disaster management, environmental protection, and mapping and land registration, Surveyor General of Sri Lanka P. M. P. Udayakantha said.
"Sri Lanka is stepping into a new era of geospatial information," Udayakantha told an international remote sensing conference that began in Colombo on Monday. "We are in the process of establishing national spatial data infrastructure."

The Survey Department has completed a 'LiDAR' survey with Japanese government aid covering five districts, Udayakantha said.
It will also publish 1:50,000 map series with data extracted mainly from satellite images and remote sensing, Udayakantha told the Asian Conference on Remote Sensing held by the Asian Association of Remote Sensing.
Source: ECONOMYNEXT